Crew Training Courses
From start to finish
We offer MCA Master, USCG and RYA Yachtmaster courses in Antibes, Fort Lauderdale & Palma for those starting in yachting and all the required modules to reach the highest levels of professional yachting.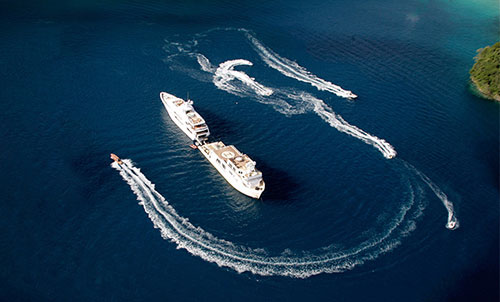 Entry Level
Kick start your career
If you are looking for a job in the yachting industry for the first time, certain training courses are essential and others are highly desirable in the eyes of potential employers.
MCA - OOW
Keep your career on course
The officer of the watch is qualified to be completely responsible for the safety of the yacht, the crew and the guests during the period of his or her watch. This is a considerable responsibility for which a lot of training is required.
RYA
Taking the helm for the first time
RYA qualifications are known and respected over the world. RYA training has been around for over 130 years, delivering 100 courses to professional and recreational boaters, which are right up to date with safety issues, regulations, and emerging trends.
MCA - Masters
World-class instructors, unrivalled pass rate
As master of a yacht you are responsible for the management of extremely large budgets and must motivate your team to achieve to the best of their abilities - often with little downtime - to create the perfect atmosphere for guests and owners.
Safety & Security
Make your work environment safe for everyone
Knowing what to do in an emergency can make the difference between a minor or a major incident when working at sea.
Engineering
From AEC to Y2 and specialised qualifications
Yachts often contain cutting edge equipment. The skills required behind the scenes to maintain the calm while the storm is happening below deck demands extremely qualified yacht engineers.
USCG
In order to work aboard commercial U.S. flagged vessels, including charter yachts, mariners are required to hold United States Coast Guard Merchant Mariner endorsements. This includes U.S. vessels operating on all U.S. navigable waters including oceans, lakes, rivers and inland waterway routes. Each endorsement holds requirements for both educational training and sea service. The licenses are limited to those with U.S. citizenship or permanent residency status.
Interior
Hospitality is at the heart of our industry
The phrase "attention to detail" gains a whole new meaning onboard as yachts can only be compared to the best of luxury boutique hotels.
Galley
Bridging the gap between ship & shore
With the new requirements laid out in the Maritime Labour Convention (MLC 2006), we have developed our training portfolio to provide the new mandatory courses required by cooks, chefs and any member of crew handling food.
Leadership & Management
Influencing human behavior
The 2010 'Manilla' amendments to the STCW convention introduced, for the first time, a requirement for management and leadership training for all ships' officers.
Teen Summer School
Yachting in action
Our summer school programme for teens offers a fun educational distraction for English speaking teens in the French Riviera... In 2017 we are able to offer two course options to teens from 16-18 yrs old in three locations; Antibes, Palma and Monaco.
Helicopter Training
Develop a helipad team
Yachts with helipads face a whole range of safety and operational challenges. In partnership with superyacht helipad specialist HeliRiviera of Cannes, we offer essential training for any yacht with helicopter operations.
Scuba Diving
Discovering the world underwater
Scuba Diving is an extremely popular way to explore new depths in a calm controlled environment, with already, millions of certified recreational divers worldwide. Should you invest yourself in Scuba diving, a whole new world of opportunity can open with divers needed for commercial, scientific, and military purposes as well.
Non-Maritime Certification
National Restaurant Association ServSafe Food Protection Certification program provides high-quality food safety examination materials for the restaurant and food service industry. The ServSafe program is recognized and accepted by more federal, state and local jurisdictions than any other food safety program.