Training courses
From start to finish
We offer MCA Master and RYA Yachtmaster courses in Antibes and Palma for those starting in yachting and all the required modules to reach the highest levels of professional yachting. You may book & pay for your training courses online.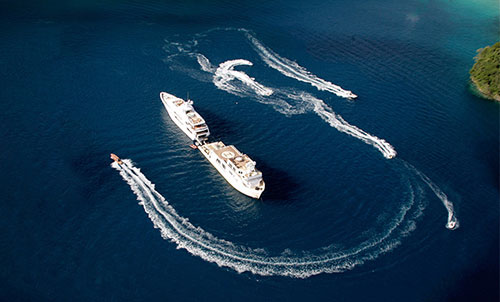 RYA
Taking the helm for the first time
RYA qualifications are known and respected over the world. RYA training has been around for over 130 years, delivering 100 courses to professional and recreational boaters, which are right up to date with safety issues, regulations, and emerging trends.
MCA - OOW
Kick start your career
The officer of the watch is qualified to be completely responsible for the safety of the yacht, the crew and the guests during the period of his or her watch. This is a considerable responsibility for which a lot of training is required.
MCA - Masters
World-class instructors, unrivalled pass rate
As master of a yacht you are responsible for the management of extremely large budgets and must motivate your team to achieve to the best of their abilities - often with little downtime - to create the perfect atmosphere for guests and owners.
Safety & Security
Make your work environment safe for everyone
Knowing what to do in an emergency can make the difference between a minor or a major incident when working at sea.
Engineering
From AEC to Y2 and specialised qualifications
Yachts often contain cutting edge equipment. The skills required behind the scenes to maintain the calm while the storm is happening below deck demands extremely qualified yacht engineers.
Interior
Hospitality is at the heart of our industry
The phrase "attention to detail" gains a whole new meaning onboard as yachts can only be compared to the best of luxury boutique hotels.
Galley
Bridging the gap between ship & shore
A major new initiative of 2010 has been the installation of our yacht training galley in Antibes. With eight student stations and one for the instructor, the galley simulates the conditions found on a yacht.
Teen Summer School
Yachting in action
Our summer school programme for teens offers a fun educational distraction for English speaking teens in the French Riviera... In 2013 we are able to offer two course options to teens from 16-18 yrs old.
Fitness
Combining weight resistant movements, such as sled pushing, with high intensity training, like repeat sprints, Crew Fit is a unique outdoor training program that builds strength, increases metabolic function, and promotes weight loss through diverse and highly intensive workout.