Royal Beach Apero Spa Evening
After the
Cannes
and
Monaco
yacht show, bluewater decided to give some local chief stewardesses and pursers in the area a little break after all their hard work over the past few weeks and busy summer months so we organised a spa evening for the ladies at the Royal Beach Hotel, Apero Spa!
The
brand new spa
, which actually only opened in April 2013, is a fabulous venue with the loveliest, friendly and caring staff on hand for anything you need.
On our spa evening we had massages, bottles of Prosecco, the spa's new jacuzzi, sauna and steam room were open, manicures, make-up and our very own hairdresser - the girls had a ball and couldn't believe their eyes when they got there. From their busy season, going from no relaxation, running around and barely having time to do their hair and makeup in the morning, to a full 3 hours of heavenly pampering- Bliss!
The spa evenings took place on the 3rd and the 10th of October. The free 3 hour spa session ran from 6pm until 9pm, in the Apero Spa room. The girls loved it. The hotel hosted one of the finest pampering sessions I have ever seen. And some even booked that night to come back the next day.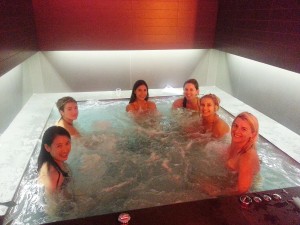 On arrival we had the lovely ladies taken up to a suite in the hotel to get changed into their swimwear, robes and slippers. They were then escorted downstairs in a private spa lift and straight to the jacuzzi, sauna and steam room with some hot herbal tea. In turns the girls were brought into the next rooms, where the lovely spa staff took them in for massages!
After this, in the next room we had Prosecco and some nibbles on arrival. Placed around the room were some tables; a manicure and pedicure station, a make-up station, a hairdresser and a nail art station. After the girls were finished chilling in the Jacuzzi room, they were brought into the stationed room to have their treatments started.
By revolving people around the room, each person got to have a go at each station, getting a manicure, nail art, hair and make-up done along with lots of bubbly and nibbles.
Our spa evening's proved to be a huge success with a great turnout. Lots of ladies left stress-free, smiling and very pleased with our evening! One of the girls told me that 'after 10 years working in the industry, not one other agency had ever thrown an event like this one, showing true care for their candidates and people using the company' - which made us very happy! We love to know that the people, who we deal with day to day, receive rewards for the hard work that they do.
At 9pm the girls left feeling incredibly relaxed and were given gift bags from the hotel staff - which included some hotel spa vouchers and other surprises. Some of the girls even headed into town to party after having their hair and make-up done, oh and maybe the Prosecco helped a little! The great thing about it is you can spend a whole day in there, beach, lunch, spa, then why not spoil yourself and book in for the night! Treat yourself.
Bluewater would like to thank everyone who came to our evening, and we look forward to treating you again!
Royal Beach Apero Spa Evening
Related links