Crew Day events schedule and prizes!
Bluewater is throwing it's annual crew appreciation day and evening party on April 26th at the Royal Beach in
Antibes
. Entry is free and we have lots of games, activities and entertainment scheduled!
CREW DAY SCHEDULE
11h00 the bluewater crew day OPENS!! a welcome drink from EGP, good music, interactive stands & prizes
11h00
Chef Competition
with Gourmet Deliveries: Heats - to enter email
avril@bluewateryachting.com
12h30 Buffet o'clock
13h00 Shaker BarSchool Live Demo
14h00
Paddle Board Race
with Paddling Antibes - to enter email
ashleigh@bluewateryachting.com
14h30 Chef Competition with Gourmet Deliveries: Semi Finals
14h30 Giant Twister
15h00 Shaker BarSchool Live Demo
15h30
Interior flower challenge
with Roni Fleurs - to enter email
crew@bluewateryachting.com
15h00 Open Bar- ONE hour with EGP
16h00 Flashbox Opens!
16h30
Napkin Folding for deck/engineering crew
with the Cabin Shop - enter at the event
16h45 Interior flower challenge with Roni Fleurs: Finals
17h00 Chef Competition with Gourmet Deliveries: Finals
17h00 Crew Sports: Giant Twister & Tug of War
17h30 Shaker BarSchool Live Demo
18h00 Buffet o'clock
18h45 Prize Giving Ceremony (VIP room)
MASQUERADE PARTY
19h00 Masquerade Party Begins with Special Guests, live music & lots of SURPRISES…
21h00 Raffle Winners Announced (in aid of
Antibes Lifeboat SNSM
&
Ecocrew
)
until late Rock out with bluewater
PRIZES
Chef Competition
1st Meal for 2 @ The Royal Café courtesy of
The Royal Hotel
Magnum of Champagne courtesy of
Gourmet Deliveries
Set of 4 Ceramic Knives 'elegance range' courtesy of Artero
Photo session in the Studio with
Loic Bisoli
courtesy of Loic Bisoli
2nd €75 voucher courtesy of
Secrets de Cuisine
Set of 3 Ceramic Knives courtesy of Artero
Meal for 2 @ Pomodoros courtesy of Pomodoros
3rd €50 voucher courtesy of Secrets de Cuisine
Set of 3 Ceramic Knives courtesy of Artero
4th Culinary book courtesy of Heidi's English Bookshop
Set of 3 Ceramic Knives courtesy of Artero
Paddle boarding
1st Padi Scuba Diving course courtesy of Diamond Diving
OR 6pack of Dives (dependant on qualifications!)
2nd 1x pair of sunnies & courtesy of
Crew Eyewear
&
200 euro voucher bluewater
3rd Decathlon voucher €30 courtesy of Currencies Direct
& 1years free fx
Napkin Folding (for deck & engineering crew)
1st Bath Robe & Cigar courtesy of the Cabin Shop
€200 training voucher bluewater
2nd English breakfast for 6 courtesy of So-Sij
3rd Masquerade Animal Masks courtesy of bluewater
Flower arranging (teams of 2)
1st 2x hair straighteners & 2x hair dryers… courtesy of Artero
2nd 2 sunbeds & a bottle of wine courtesy of the Royal Beach
3rd 2x 1hr paddleboard rental courtesy of Paddling Antibes
Twister
Drinks tickets from bluewater courtesy of bluewater
Tug of War
Isle of Man Monopoly courtesy of Dominion &
Drinks tickets courtesy of bluewater
Best Dressed Female
hair straighteners & hair dryer courtesy of Artero
Best Dressed Male
1x 50min Treatment courtesy of the Royal Spa
Raffle Ticket Prizes
Crew
Grapevine
: 1 week free stay
Freedom
Maritime: White Go Pro
G Travel: €500 travel voucher
The Driver: Return Journey Antibes-Nice
Golden Beef
: Meal for 2
Royal Hotel: 1 night stay
Antione Pierini
: Glass artwork worth €2000
Secrets of Cuisine: blue cocotte 'french oven'
Gourmet Deliveries: Luxury Hamper
Crew Eyewear: 1x pair of sunnies
Bluewater: voucher €250
Entry is completely free for crew however, to avoid queue's or disappointment (we had over 1200 people last year and had to turn people away), please pre-register
here
.
Contact information
Related news
Learn more about this subject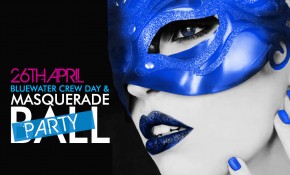 Last year we threw the biggest crew party Antibes has ever seen ... and this year we are throwing an even bigger one!! The annual Bluewater crew day is happening on the the 26th of April, in the Royal Hotel in Antibes.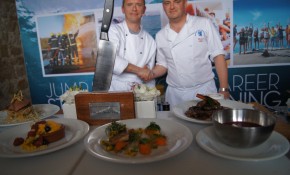 We have 4 amazing competitions taking place on the 20th of April at the blue crew day (Royal Hotel Antibes) and thanks to our partners, the prizes are equally as good! Entries are now being taken for the paddle board race (individual), flower arranging challenge (teams of 2), chef competition (individual) and napkin folding for engineers (individual). Check out the prizes!!