Bluewater supports annual creative talent competition for yacht stewardesses!
The Top Notch Table Top Competition is an event where stewardesses can showcase their creative talent in 7 different categories: Most Artistic Napkin Fold, Top Creative Centerpiece, Stylish Menu Design, Best Beverage Presentation, Luxe
Interior
, Outdoor Chic, and Tip of the Day.
This is the 4th year of this ever-growing event, currently taking place at the Miami, Fort Lauderdale and Palm Beach Boat Shows in Florida. The competition began in 2014 and is organized by Cris Clifford of
Aqualuxe Outfitting
. Cris photographed the #TopNotchTabletops at the 2017
Palm Beach International Boat Show
and awarded the winners at the
2017 Triton Expo
. There were some wonderful prizes for these talented stews, including great gifts from bluewater.
14 yachts & 33 stews participated in the 2017 Palm Beach International Boat Show edition, with three yachts winning the lovely bluewater gift bags filled with Blanc de Bleu bubbly, a signature handmade glass-bead necklace and earring set, and a great assortment of bluewater swag.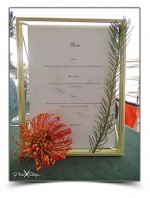 Photo Credit: Cris Clifford
Chief Stew Ashleigh Dugdale, along with Cayla Platt, Goody De Johghe and Kelly Spencer of M/Y Spirit, won 1st place for the Stylish Menu Design Category. The crew of Spirit displayed a Bohemian Chic Outdoor table setting, incorporating succulents, sage, carnations, cactus, an array of vases, crystals, rosemary, and thyme, arrayed on a soft, muted-green velvet table cover. The simple napkin fold was the perfect accent, with sprigs of evergreen rosemary to complete the earthy look. The Drink of the Day was a refreshing, rum-based iced tea concoction named "Spice of Spirit", that featured black chai, cinnamon, star anise, rosemary, thyme, coconut cream and an interesting black-salt rim.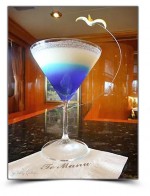 Photo Credit: Cris Clifford
Chelsea Gallaguer of M/Y Te Manu won 1st place for the Best Beverage Presentation Category. Te Manu's crew offered their guests a beautiful fresh lemonade beverage presentation as they boarded. Chelsea Gallagher crafted the yacht's specialty drink: the Te Manu (a term that refers to the Maori kite bird of Polynesia). The lemon garnish affixed to the glass depicted a bird gliding in the wind. This charming presentation was definitely one of the highlights of the day.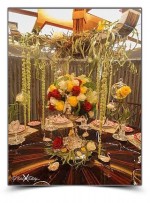 Photo Credit: Cris Clifford
Chief Stew Samara Rose of M/Y MAG III won 1st place for the Creative Centerpiece Category. MAG III's crew showcased a chic arrangement of roses in a stunning antique silver vase that depicted the mythological god Triton, son of Poseidon, Messenger of the Sea. Her centerpiece featured roses entwined in the chandelier, complemented by greenery and whimsical glass bubbles holding small bouquets of roses and kale suspended aloft. A unique collection of vintage silver coasters accentuated lovely Hermes china to finish this elegant mythological theme.
To see all the photos and learn more about the Top Notch Tabletop Challenge, please visit
TopNotchTabletop.com
.
Related links
Related news
Learn more about this subject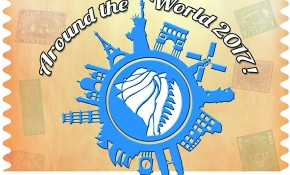 The first Triton Expo of 2017 is taking place on April 5th at the Bahia Mar Yachting Center, from 5pm - 8pm, with bluewater representing France in the "Around the World" theme!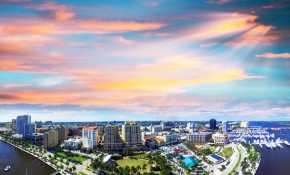 The 32nd Annual Palm Beach International Boat Show is taking place March 23rd -26th and will showcase a stunning selection of superyachts available to purchase or to charter. It is one of the top five boat shows in the country - featuring more than $1.2 billion worth of boats, yachts and accessories from the world's leading marine manufacturers.