2018 Beauty of Yachting Photo Competition Winners
Congratulations to Kyle Haasbroek, this year's winner of our 8th annual photo competition.
© Kyle Haasbroek
Winner!
Kyle's photo 'Explore Alaska', takes home the prize of €1,000! Kyle experiences 'the beauty of yachting' within yachting's private sector while working as a bosun, photographer, and fishing guide.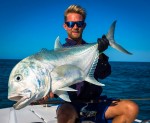 Kyle Haasbroek
Following a passion for photography and travel, 'Explore Alaska' occurred at 057"30.17' N / 132"51.15' W en route to Tracy Arm Ice Glacier, South East Alaska. You can see more of Kyle's photography on Instagram @kylehaasbroek.
The judges selected this photo out of over 1,000 entries because of the depth of field, where the yacht is as sharp as the mountains, and of course for the stunning imagery.
Honourable Mentions
Honourable mentions also go to Benjamin Mason for his creative 'I'm Flying' and Chris Morris for his heartwarming 'Dolphin on the Bow'.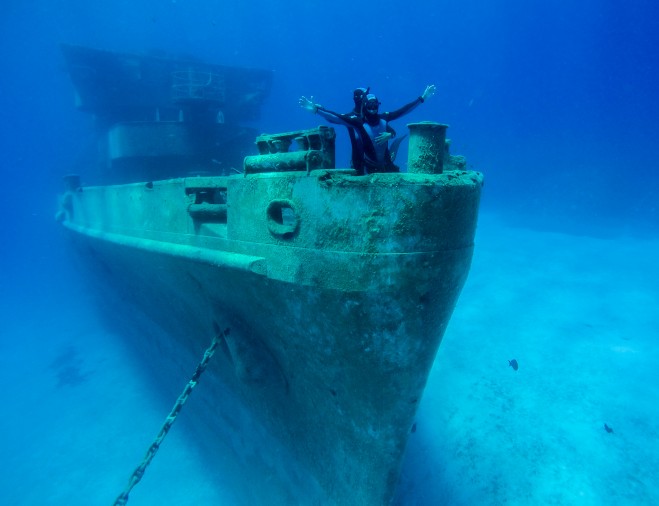 I'm Flying © Benjamin Mason
Ben is from Whangarei, New Zealand, and has been in yachting for about 4 years. He has completed seasons in the Mediterranean, Caribbean, West Coast USA, Pacific and South Pacific. He recently left the Dragonfly Fleet and is freelancing in the Pacific, currently on anchor in Cook's Bay, Moorea, French Polynesia.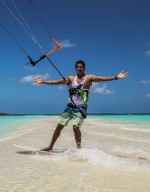 Benjamin Mason
Ben's hobbies include kiteboarding, surfing, snowboarding, and travel, and he has been lucky enough to do all of these things for work this year alone. Photography is his passion and the opportunity to travel on yachts affords him some amazing photo opportunities.
The photo itself was taken on the USS Kittiwake during crew training on an Advanced Freediving course in the Cayman Islands, where some of the crew managed to free dive down to 55m.
We loved the clever "Titanic" re-enactment and the richness and depth of the photo. Ben received a €150 gift certificate from Amazon.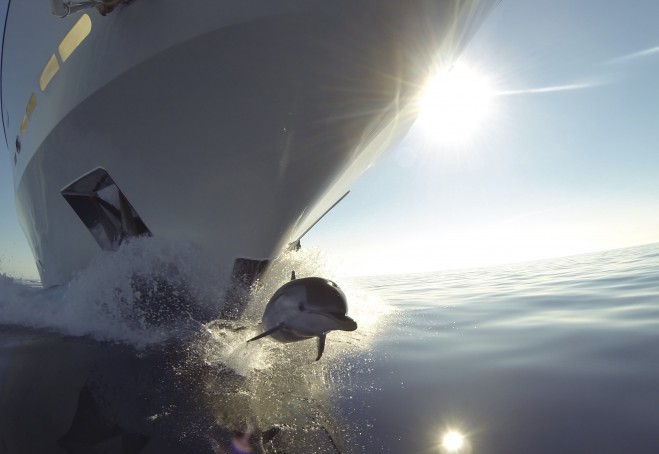 Dolphin on the Bow © Chris Morris
Chris Morris was originally from a small town called Wokingham in the UK and has been working on yachts now for 7 years. He loves his job as a rotational officer between Second Officer and Chief Officer.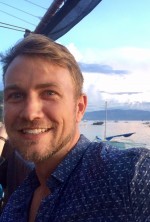 Chris Morris
Currently, he is working towards his Master's ticket. He has a true love of travel and looks forward to more adventures on the seven seas.
Chris captured this shot cruising back from the Bahamas to France. He was lucky enough to catch this guy playing on his bow wave and scored a perfect shot. The fact that it was a flat, calm day, made it even better!
All of the judges absolutely fell in love with this dolphin. It is such a sweet shot. Chris was not only able to capture the dolphin's expression and playfulness but it appears that the dolphin may be pulling the yacht! This was definitely the crowd favourite. Chris received a GoPro Sessions waterproof camera so that hopefully he can send us more of his shots in the future!
We would like to thank everyone who participated in this year's photo competition and we look forward to receiving your submissions next year.
Related news
Learn more about this subject