Yacht charter events
The ultimate in luxury, elegance and decadence
Enjoy exclusive yacht charter events around the world onboard
luxury yachts
. Whether it be a Formula 1 Grand Prix or the Cannes Film Festival there is no better way to relax and enjoy a hassle free holiday than with a tailored
yacht charter
.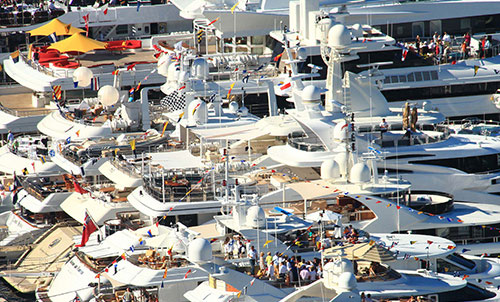 Monaco Grand Prix
26th - 29th May 2016
The Monaco Grand Prix is the most glamourous and prestigious Formula 1 Grand Prix in the world. Live the ultimate yacht charter experience and view the race from the deck of a luxury yacht. The Grand Prix runs over four days, with qualifying from the Thursday, and race day on the Sunday. For those chartering a superyacht, the experience is simply unforgettable.
Monaco Historic Grand Prix
13th to 15th May 2016
The principality of Monaco has a long and varied history with motor sport making it the ideal location for this celebration of historic motor racing. The Grand Prix de Monaco Historique will celebrate in 2016 its 10th edition, an unmissable event for worldwide collectors and classic motorsport fanatics. A real sprint race, contested on the legendary circuit of Monaco, The Grand Prix de Monaco Historique is designed for worldwide collectors, nostalgic enthusiasts, drivers, spectators and ardent supporters of former days' mechanics, who definitely won't miss this world event.
Cannes Film Festival
11th to 22nd May, 2016
The Cannes Film Festival is the most important cinematographic festival which was started in France at the end of the 1930s. Today it is one of the world's oldest and most distinguished film festivals. The Cannes festival is held annually in May at the Palais du Festival, built specifically for this festival.
Cannes Lions
18th to 25th June, 2016
In 2016, Cannes Lions is an eight-day programme of creative inspiration, celebration, education and networking, attracting over 15,000 delegates from around 100 countries. It is the only truly global meeting place for branded communications professionals and our Awards set a global benchmark for what good creative looks like.
Cannes yacht charter events
Mipim and Mipcom conferences
Cannes is a town marking the western edge of the French Riviera. For charter yachts and pleasure boats mooring in the bay this must be the most relaxing way to enjoy Cannes and its festivities. The ideal place to be during any of the Cannes conferences is on a luxury yacht in the port of Cannes.
Antigua sailing week
Chartering during Sailing Week, Antigua
The sailing date for the yachting diary in April has been for the past 45 years the Antigua Sailing Week. This year will be no exception with over 1500 participants racing from 23rd to the 29th April.