The Sport and Spirit of Sailing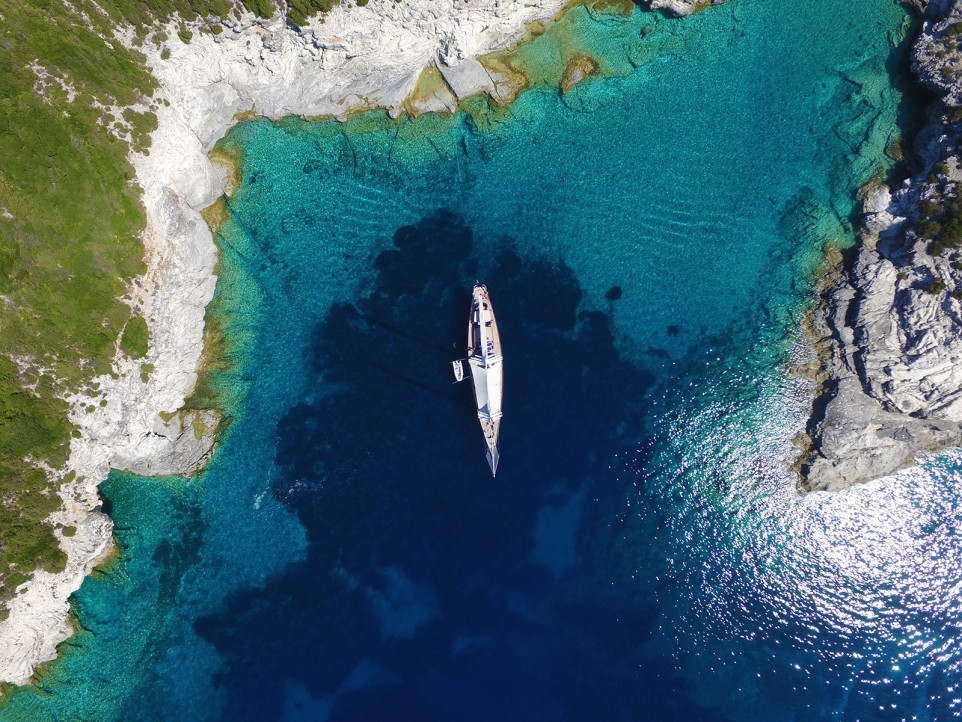 Sailing Charter
A sailing yacht charter is transformative.
A sailing yacht charter is an active holiday that teaches you things and makes you proud. Whether it's learning how the Captain navigates, how to read the wind, or take the helm and control a powerful vessel in a buffeting wind, there's a real thrill to mastering skills at sea. Learning new skills is what keeps us young at heart.
After a sailing yacht charter, your leg muscles will be that little bit firmer, your balance that little bit more steady, and you'll leave the yacht with a renewed interest in the wind, weather and stars above.
A sailing yacht charter is a bonding experience.
Sailing is an activity that bonds you to the people you're with in a shared challenge —whether that's your kids, your partner, your friends, or clients. Because you're all communicating and working together, sharing an adrenalin-fueled experience and learning new skills under the direction of the crew.
For families, it's a real joy to watch children learn what it is to sail, seeing them become more confident on their sea legs as each day passes, and sharing the excitement of spotting dolphins, whales and turtles together. A family that sails together has wonderful shared memories.
A sailing yacht charter is a team activity.
But it's not just your group you'll bond with. Sailing is a team effort that bonds you with the crew, rather than separates you from them. When you're actually sailing, you can feel like part of the crew.
Regatta sailing charters are superb sport — and very social!
While there are plenty of times on a sailing yacht charter where the luxury tap is fully turned on and you can loll about on a deckchair drinking cocktails, there are other times, especially if you are spectating in a regatta, where the atmosphere will be electric. You can't help but feel part of the action as you watch your crew race to gybe the spinnaker as rapidly and neatly as possible, or as the captain calls for another sail change; "Now"!
Being a guest on a racing yacht is the ultimate luxury because you are in the eye of the storm – watching from the peaceful centre while the tornado of activity swirls around you.
Regardless of the competition out on the water, the camaraderie of regattas is legendary, as you return from the race to a thriving social scene back at race village. The social aspect of sailing is unparalleled in the motor yacht world. Sailing is a good sport, full of 'good sports'.
A sailing yacht charter connects you to nature.
Of course, not everyone sails to race. Many of our charter guests prefer the slower cruise, the quiet anchorage and the graceful dive from the bow into clear sea. There's always a moment in sailing when everyone just stops for a moment, and breathes. The sails go up, catching and billowing in the wind. The engine is silenced; the only sound is the wind and the soft hiss of the hull slicing through the sea. You feel the boat moving under you, bare feet on warm teak, salt spray in the air.
You take a deep breath, and realise you feel incredibly, unusually good. It's not just the setting, it's science. Sea air is charged with negative ions, which increase your body's oxygen absorption and balances serotonin levels. The peace of sailing just helps you to notice this more.
There's a history and romance to sailing.
When you're on a sailing boat, out of sight of land, there is a tie that links you all the way back to the explorers of yesteryear — back to the days of long sea voyages and the doldrums and epic adventures in far-off lands.
There's still that magic in sailing, that heady sense of maritime heritage and swashbuckling adventures. They say that fragments of our ancestors' memories are stored in our DNA. Maybe that's why when some of us set foot on a sailing boat, feeling the slight movement under our feet, that we feel utterly at home. And excited to chase some horizons.
You don't need experience to go a sailing yacht charter.
Maybe you messed around on boats with your grandad as a kid and want to get back to that happy feeling. Maybe you've never sailed a day of your life but thought it looked like fun.
It doesn't matter where you're at with sailing, a sailing yacht charter just requires that you turn up happy to get some salt in your hair.
If you're an active person, or you want to go on a fun holiday with your family where you bond and learn new things, there is no better holiday option than a sailing yacht charter. Contact Bluewater to plan your ultimate sailing charter.