For a limited time
During this time of uncertainty, and for a limited time only, Bluewater is offering discounts and deferments on the popular ONE Account.
Below you will find all the benefits of joining this exclusive account, and the costs for your yacht.
What is the ONE Account?
The ONE Account is a unique
training and recruitment bundle
, designed by Bluewater.
You pay one fee, which is fully refunded to you in training vouchers, and we give you unlimited access to our recruitment database.
Free training, unlimited recruitment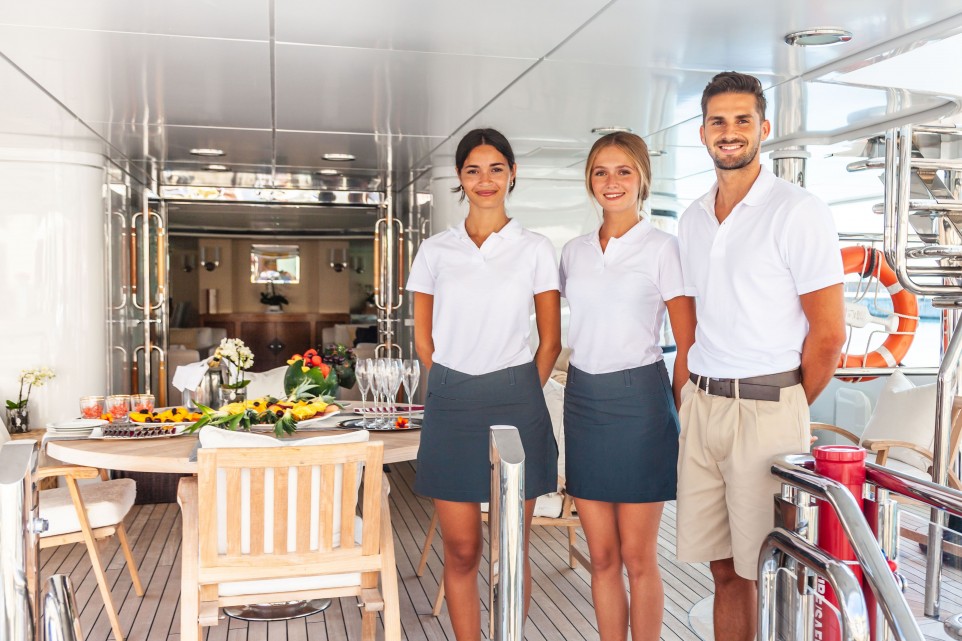 Unlimited recruitment:
With 120,000+ crew on our database, we give you a unique log in for owners, captains and heads of departments.
You'll be able to search and hire thousands of available crew, for 12 months, from the comfort and security of your own cabin or home.
The search facility allows you to filter crew by location, availability, qualifications, experience and more.
Thousands in free training:
Your discounted subscription fee will be fully refunded to you in credits to use at any Bluewater training centre for 12 months.
You and your crew can access our STCW, MCA and SV courses for free.
Not quite ready to start training?
We understand that it is almost impossible to plan at the moment. For this reason, ONE Accounts purchased in March and April 2020 will be entitled to a deferment scheme on their training credits, allowing you to start using your recruitment access immediately but delay your training package until free movement is restored to the world.
Who you gonna call?
Our global ONE Account team
is looked after by Natalie Hedley-Ford, Sophie Riche and Becki Milton in Europe, with Joanne Cooper-Damgaard covering the USA and Caribbean.
Can I try before I buy?
Of course! We offer a free trial to anyone who asks! Send an email to
one@bluewateryachting.com
and you will be given a live demo to play with.
We have a team in place known as One Account Assist for when you're busy and need some assistance with your recruitment.
Whatever your needs, we have it covered.
Massive discounts
Here are the discounts being offered, and remember every penny you pay you receive back in training credits to use globally.

The vouchers will be delayed until the courses are back up and running at 100%, we are also including an extended training schedule through the Spring and early Summer to compensate for this lost time.

Euro prices:
0-24m Yachts - Was: €3,000 Now: €2,550
25-34m Yachts - Was :€4,000 Now: €3,400
35-44m Yachts - Was: €5,200 Now: €4,420
45-54m Yachts - Was: €6,200 Now: €5,270
55-64m Yachts - Was: €8,200 Now: €6,970
65-84m Yachts - Was: €11,500 Now: €9,775
85-114m Yachts - Was €15,500 Now €12,400
115-144m Yachts – Was €21,000 Now €16,800
145m+ Yachts – Was €31,000 Now €24,800

Dollar prices:
0-24m Yachts - Was: $4,000 Now: $3,400
25-34m Yachts - Was: $5,000 Now: $4,250
35-44m Yachts - Was: $6,200 Now: $5,270
45-54m Yachts - Was: $7,200 Now: $6,120
55-64m Yachts - Was: $9,200 Now: $7,820
65-84m Yachts - Was: $13,500 Now: $11,475
85-114m Yachts - Was: $17,500 Now: $14,000
115-144m Yachts – Was: $22,000 Now: $17,600
145m+ Yachts – Was: $33,000 Now: $26,400
Book or try today
The ONE Account team look forward to speaking to you and helping with your training and recruitment solutions.