Thank you for a successful Blue Moon Party
Well guys, wasn't that just EPIC!? We definitely pulled out all the stops for this one! Our parties are created for crew to meet up, enjoy themselves and have an all-round great time after working the busy summer season, and this is what we achieved.
We want to thank you for attending our event, for your donations and for making the party fabulous, we couldn't have done it without you!
The best news from the night is that from our balloon race ticket sales and donations for our face painting stand; the event has raised €1055.30 between bluewater's two chosen charities; the
Antibes Lifeboat
and the
Antoine Lacassagne
for cancer research. The balloon race closes on the 16th of October and the balloon that travels the furthest wins all of the prizes generously donated by crew eyewear & the Royal Hotel Spa.
Not only do we have you amazing crew to thank for making the party and the generous donations, but we also have to thank the others who helped make our event come together.
A big thank you to our lovely friends at
Deco Flamme
&
Fred Animation
, who went the extra mile with the decoration, lighting, DJ and sound. Our gorgeous team at bluewater for being great, helping set up the entire place and making sure the night ran smoothly.
EGP
, the provisioning company that completely catered the free bar at the beginning of the event. Roni Fleurs for providing stunning glow in the dark flowers and
Flashbox
, for their amazing photo booth that entertained us all with photos for fancy dress keep sakes.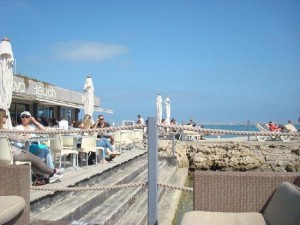 Last but certainly not least, the
Royal Beach
who provided their lovely venue and gave, as usual, the best service in the Cote d'Azur.
The atmosphere at the party couldn't have been better, we couldn't have asked for a more amazing night as I'm sure all crew will agree! We cannot wait to do it again, and we will keep topping the party's every time.
Keep your eyes peeled for the next one. Watch this space!
Oh, and if you missed bits, check out our
facebook
page for some of the event photos!!