Looking for yacht crew uniforms?
We recently came across an incredible promotion on Taylor Made Designs website superyachtcrewUniform.com, a website solely dedicated to crew uniforms and accessories.
In honour of their new website dedicated to crew, TMD are hosting a '
Launch Promotion
' with a discount of up to 50% on uniform orders.
We recently caught up with Ed Taylor , owner of TMD who told us in that with over 20 years experience, they are now one of the most successful uniform suppliers in the UK. Their brands range from Musto, Sebago, Helly Hansen, Russell, Sol's, to SLAM and Henri Lloyd.
To take advantage of their Launch Promotion visit this
link
or contact Ed Taylor by phone + 44 (0) 7713 126 234 or by email
ed@taylormadedesigns.co.uk
.
Happy shopping!
Related links
Related news
Learn more about this subject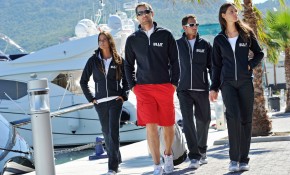 There's no denying that brands, say, the likes of Musto, Henri Lloyd and the other usual suspects produce some of the finest foul and wet weather protective clothing available today. After all, they have developed their clothing over the years with Round the World Yacht races, countless inshore and dinghy competitions and so on, but that's not the mainstay activity of a superyacht.