Congratulations Marysia! We're proud of you.
Marysia's Grand Cycle for Cancer! Women V Cancer Cycle - 2013 Cuba
© Marysia with fellow cyclists
Marysia Holden, wife of bluewater director Philip Holden, who has been with the company since the very beginning, has completed an amazing challenge of a lifetime. She cycled 400km over a period of 5 days through Cuba for "Action for Charity's - Women V Cancer Cycle", in October this year!

Cycling 6-7 hour days under extreme heat and humidity, uneven terrain and even bush fires, Marysia completed this amazing circuit. In the process, she created life-long friendships and raised a great amount of money to help women beat cancer! Marysia supported three different charities; Breast Cancer Care, Jo's Cervical Trust and Ovarian Cancer Action. In addition, she also donated gifts to children in the special school for the deaf & blind in the town of Matanzas.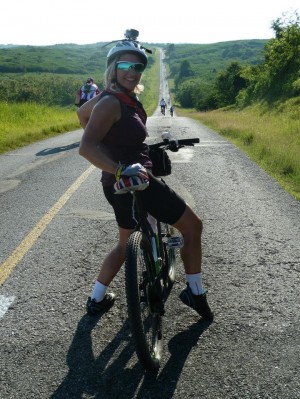 Marysia chose these charities as she felt that they were lesser known than the bigger named charities and thought that they needed her support! She has done charity work before and intends to do more in the future, as she explained to me about her future plans with Action for Charity, which includes 'Ride the Night' through London in May 2014 and 'Women V Cancer Cycle Africa' in October 2015.
"I had a few personal reasons for doing it for myself and also the fact that I wanted to get up and out there and try and make a little bit of difference in the world and help and support people that need it."
Marysia received an incredible amount of support from friends and family throughout her journey across Cuba. She has done wonders and absolutely smashed her estimated target which was £2,900 - and raised an amazing £3,125.98 for Women V Cancer! I had the chance to be filled in on her travels, which sounded to me like one of the best life-time experiences I have ever heard of!
The group of 84 inspirational women met at Gatwick airport on day 1 of the 8 day journey. Only knowing each other through the charity cycle training weekend and Facebook conversations from the cycle's group page, the women gathered together to start a journey that would be packed with challenges, laughs, and in the end form lifetime bonds with each other.
Only allowed 1 bag, Marysia had to pack the necessities, cramming her bike gear into her case along with the 'must takes' which obviously included her new GoPro! Preparing herself as much as she could, with weeks of training before the big cycle, Marysia explained to me that it wasn't just the physical preparation for the cycle that was important, it was also the mental preparation.
"You had to literally psyche yourself up for it, you had to get it in your head that you were going to do this, and think c'mon, above all the negatives that you would have against you - heat, winds, exhaustion, all of that, you had to just think of the positives and believe in yourself that you could do it."
On the first day there Marysia visited a school for deaf & blind children in Matanzas, Cuba. An experience she described that took my breath away - the people of the towns being so welcoming, when the women arrived with gifts for the disabled children, their smiling faces couldn't control their excitement, like it was Christmas day. And to see any child smiling fills your heart with joy. They were so excited and wanted to show us around even their dormitories. The woman had such an amazing welcome from the School and the children even had poems for them! This is one of the reasons why she is doing such an amazing thing, travelling through, helping and doing her bit to do some good in the world.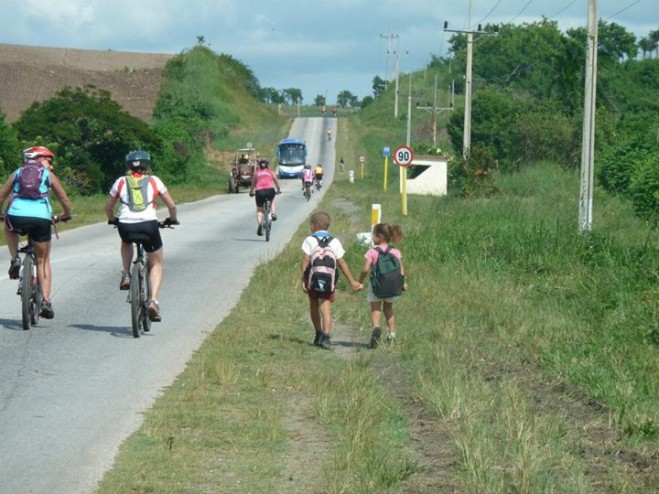 Cycling through the towns over the next few days she saw some amazing sights. The towns were very old with donkeys and carts, people walking through town bare-foot and children chasing the women on their bikes, like it was something they had never seen. As the men from the charity in their support vans drove in front of the women, and often stopped in the next town before them just to give the towns people a little warning as to why the women were doing this.

"I felt privileged for them to allow us to travel through their little communities and be part of their culture for that day, and they enjoyed it because they knew what we were doing and that it was for a good cause." Throughout the journey there was some hardship. On one occasion, one of the ladies took a nasty fall and broke a bone during the cycle and had to be sent home - which devastated her. However she will be joining next year to complete the cycle!. The terrain and conditions that the women had to go through were tough at some stages and some women at the beginning of the cycle even fainted from the heat!

The weather was beautiful for the whole 4 days of cycling (almost too beautiful for the fainters!), but then came the rain, and when it rained, it poured - and the girls were ecstatic! After 4 days of heat and humidity, this was like heaven!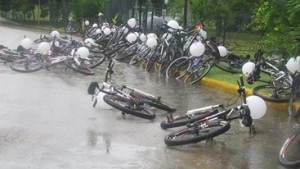 Finish Line
The journey that the ladies did together was incredible and inspirational. It actually makes you want to get out there and join this great cause. The laughs, funny moments, sing-song's and also embarrassing times (that will probably not get printed), was what helped the team get through their fabulous mission - and a few rum and cokes along the way also helped!
"It was an incredible bond by the end, as everyone who was there, had their own story and reason for doing it, whether they had fallen themselves to breast cancer or had lost someone close or just wanted to make a difference this was a journey they wanted to take."