Benetti's shocking yard fire ... is your fire safety up to scratch?
Around 7am on Tuesday the 20th of August in the Morosini dock area located inside the boatyard in Livorno, a
Benetti
56m yacht in the late stages of construction - caught fire.
This fire was said to have most probably been caused by a massive storm full of lightning and electricity in the atmosphere that affected Livorno overnight. This exceptional weather condition most probably provoked an unexpected strong electricity discharge on board which in turn caused the fire.

The Benetti internal security/fire teams were immediately on the scene and, after having assessed the situation, activated the Fire Department of the city of Livorno.

The fire which ran for 10 hours was extinguished by 5pm that day and no injuries were reported, thankfully! The extent of the damage has not been reported by Benetti as yet, but photos show that, unfortunately, the yacht fire had spread to multiple decks before being extinguished.
Benetti did their best to contain the fire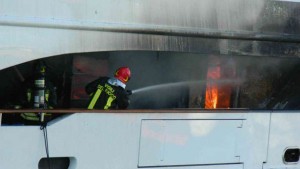 54m Benetti on fire
The builder's official statement reports that, 'The Benetti internal security/fire teams immediately showed up and, after having assessed the situation, activated the Fire Department of the city of Livorno.'
Benetti has released a formal statement following the fire on board the 56m in-build motor yacht FB261, which was moored outside the shed in the yard when the fire started. Benetti said the yacht had been in the final outfitting stages, with completion due this month following her July launch. Her naval architecture is by Benetti, with interior design by Bannenberg & Rowell and she was listed for sale at €34,000,000. The yacht, a spec build, was close to finished and was expected to be exhibiting at the Monaco Yacht Show.
This is a sad story that something this great could all of a sudden catch fire from a cause completely out of anyone's control. All the planning and hard work that is put into building these luxury yachts is suddenly wasted. This also springs the thought to people's minds; 'that could have been our yacht.'
How to best protect your yacht from fire
Fire safety and prevention is of massive importance on board a yacht. It is one of the first things that you learn when starting out your yachting career. You need to know the correct safety measures to take when working on board and also make sure others around you have the same knowledge.

Make sure you and your crew are safe. If you feel unsafe on board or feel like the yacht isn't taking proper precautions, fire drills and safety checks, let someone know. This time, it was lucky that no one got hurt and actually started from something that couldn't have been controlled or avoided and not due to anyone's carelessness. Always be fire safety aware and make sure that if it does happen, that you are ready to help stop it and know exactly how to make yourself and everyone around you safe.

Something that your yacht could do to stop the risk of this kind of thing happening and spreading is by using fire retardant on the yacht's fabrics. Yacht cleaning companies such as Inter-Nett Monaco specialize in doing this service, which could help prevent the fire spreading and/or setting fabrics on fire. Definitely something to be thought about!
Fire safety training at bluewater
Here at Bluewater we have two different types of fire courses; our
Basic Fire Training
(which is included in the Stcw95 basic training) and also our
Advanced Fire course
.
Our basic fire course describes what you should do if a fire breaks out on board. You will learn; practical fire fighting drills using different types of extinguishers, hoses and breathing apparatus. Half of the course is practical and half theoretical. Students gain experience in fighting fires in an enclosed space with heat and smoke.
Our Advanced Fire course is a more in depth fire course and is one of the most important safety courses for professional seafarers. Bluewater is one of only two schools approved to run it outside the UK and the only one in continental Europe. This course covers the syllabus required by the STCW95. It is a management level course aimed at those holding or aspiring to MCA Certificates of Competency in both deck and engineering specialisations, and also for those aiming to be awarded the new PYA interior head of department certificate.
These courses contain a lot of practical hands on fire fighting. Students gain experience in fighting fires in an enclosed space with heat and smoke and of casualty evacuation in a series of escalating exercises designed to build confidence and teamwork. They will also acquire an appreciation of command and control problems as if it were a real life situation.
Keep yourself and your crew safe !
Major fires aboard yachts seldom end well, even if the fire occurs in or near a port. Because of their thousands of gallons of fuel, structural plastics that become extraordinarily toxic when on fire, and complicated layouts that include multiple confined spaces, boat fires are classed as among the most dangerous types of fires to fight.

These courses are vital to have knowledge in, in the yachting industry. As we have seen in this Benetti incident, it can happen and if it does, you should be prepared to deal with it and help other crew on the yacht as well. Keep safe and have the correct knowledge about fire safety! It could save lives!

For more information on fire safety with Bluewater's on-board training for your vessel or booking fire safety training courses for crew at our training school contact our Antibes office on 0033 493344773, go online at

www.bluewateryachting.com

or email Sarah, Lisa or Karen on

training@bluewateryachting.com

.
Advanced Fire Fighting
Category
Safety & Security
Locations
Antibes, Fort Lauderdale, Palma