ShowBoats Design Awards: The Best of Furniture and Interior Designers
Recently, famous luxury yacht
interior
design company Van Geest Design (winner of the 2011 International Yacht Awards for Deck Design) decided to expand into custom designing and commissioning deck furniture for their
yachts
. This comes as no surprise, as the company is highly regarded for its design solutions and its expertise in the field.
In similar news, 2 months ago Australian yacht furniture maker Valdenassi, which specializes in supplying on-deck furniture, announced that they are once again expanding and that their furniture can now be found on a total of 5 continents. Both these news signal that the interior design world and furniture manufacturing for luxury yachts are a developing industry which is constantly expanding.
One venue where advancements and achievements in the world of yacht interior design are honored are the annual
ShowBoats Design Awards
which this year took place on the 21 June in Monaco. There, a number of design studios were awarded for their exclusive design ideas and innovative realization of projects. While there are many studios and designers out there that deserve proper credit and attention, the ones chosen at the awards are certainly some of the best yacht interior designs out there to date. Here are, therefore, some of the winners and their respective projects.
Interior Design Award – Sailing Yachts
Wetzels Brown Partners
received the interior design award for sailing yachts for their work on Better Place, a yacht by Wally shipyard. The world's largest sloop in carbon fiber, the sailing yacht is built in the true spirit of Wally, with a commanding exterior that features some very clean and sleek lines. The interior design follows and blends seamlessly with the exterior with its almost ultra-modern feel. The combination of floor to ceiling windows, LED lights, carbon fibre and white oak for furnishings and living spaces creates an airy and spacious feeling.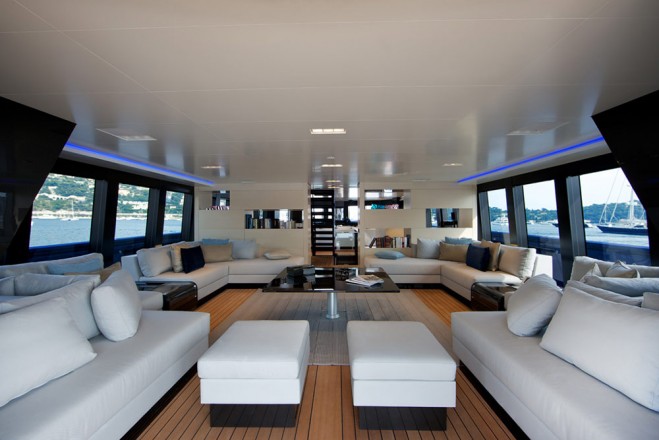 © Better Place by Wetzels Brown Partners
Interior Design Award – Semi-Displacement Motor Yachts
Interior designer
Guido de Groot
received and award for the AB 116 Diamond by AB Yachts shipyard. The yacht which was delivered just somewhat prior to the awards, has a 'classical' and slender AB sport power yacht look. The interior preserves some of the sporty feel of the exterior with its clean white surfaces and furnishing but also adds a tinge of warmth and a type of Mediterranean feel (AB yachts are from Italy after all) with the wooden floors and yellow lightning. The interior, like above, creates a very spacious and open atmosphere and is further noteworthy because of the materials which are usually used in the aerospace industry.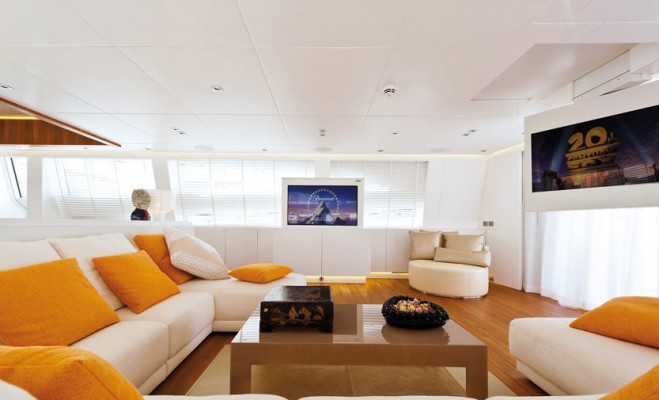 © Diamond by Guido de Groot
Interior Design Award – Displacement Motor Yachts 30m – 59.99m
Rémi Tessier
, who also received an award last year for his work on the superyacht Satori, was this year awarded for his interior design of the yacht Aslec 4, constructed by another Italian shipyard – Rossinavi. With her smooth and curved forms, Aslec 4 demonstrates a very friendly as well as stable and voluminous look and feel. The additional tinge of eccentricity added by some of her lines provides her with a contemporary and modern feel. On the inside she is just as beautiful – Rémi Tessier has provided her with an interior to suit her exterior in that it is very pure and bright, with oak and ebony used to a great extent. She has a calm and soothing atmosphere which is at times also quite glamorous (speaking of eccentricity) without being over the top.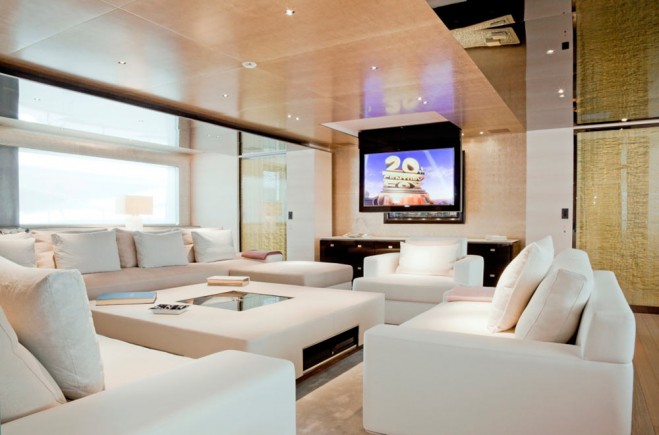 © Aslec 4 by Rémi Tessier
Interior Design Award – Displacement Motor Yachts 60m+
Finally,
Vain Interiors
received an award for Smeralda built by Hanseatic Marine (Silver Yachts). Smeralda, echoing the name of Esmeralda from Victor Hugo's novel, certainly has a seductive look about her and her interior makes no exception. Though all of the above yachts are very luxurious and exclusive, Smeralda certainly stands out because of her outstanding interior design which features some very fine and minute details as well as the use of lightweight materials. Furthermore, despite her narrow beam, one does not feel constrained or boxed in due to the successful positioning and colors of all furnishings.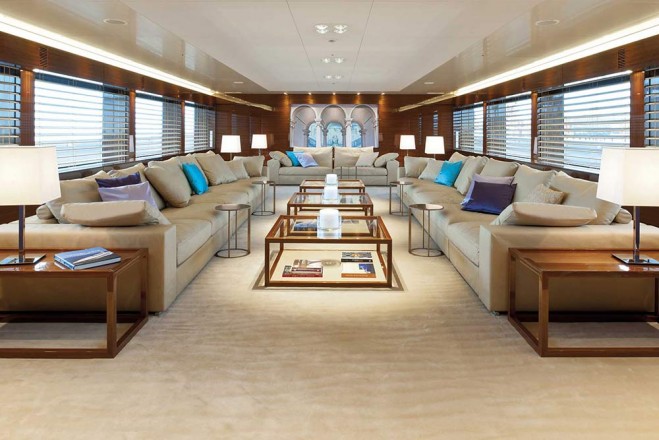 © Smeralda by Vain Interiors
Who knows what we will see in a year from now? As materials, styles and concepts are developing, superyachts are continually acquiring more beautiful, clean and very precisely designed interiors and exteriors. If you are interested in seeing some of these beauties live, you should consider visiting the annual
Cannes Boat Show
, the Festival de la Plaisance de Cannes, from the 10 – 15 September.
About the author
Blogger
Over the years I've lived in various places - from Germany to Finland, to Bulgaria and Denmark, and have also traveled extensively. This has developed in me a keen love for moving, visiting and exploring new places. I enjoy hiking, sailing and traveling by sea, swimming, martial arts and all sorts of physical activities. I am deeply concerned about environmental issues and sustainable living, specifically those related to the preservation of the oceans and their inhabitants.