Into the Deep: 5 Amazing Underwater Destinations
Have you seen the footage of Guillaume Nery 'base jumping' at Dean's Blue Hole in the Bahamas? If you told me that it didn't impress you, I wouldn't believe it even for a second. Blue holes, coral reefs, shipwrecks and underwater museums - there is a certain enigmatic quality to them all, even to non-divers. It must be the ocean's call that compels and enchants us.
© Mav_ellal / Foter / CC BY
70% of our planet's surface is covered by water. It's no wonder there's an inexhaustible number of diving-friendly places that would excite any curious visitor. Rounded up below for you are the five most amazing and mysterious diving
destinations
. And since there are no traffic jams at sea, a charter yacht is the ideal form of transportation to get you there.
Pavlopetri, Greece
Pavlopetri, "Paul's and Peter's", is an underwater site off the coast of the Peloponnese peninsula. Dating back to
5000 BC
, this is the world's oldest submerged city, unless you're on the lookout for Atlantis.
It is believed that the town was submerged by an earthquake but its layout has mysteriously remained just as it was before the demise. It is considered part of the world's underwater heritage by UNESCO and a perfect destination for the adventurous of heart.
Baiae, Italy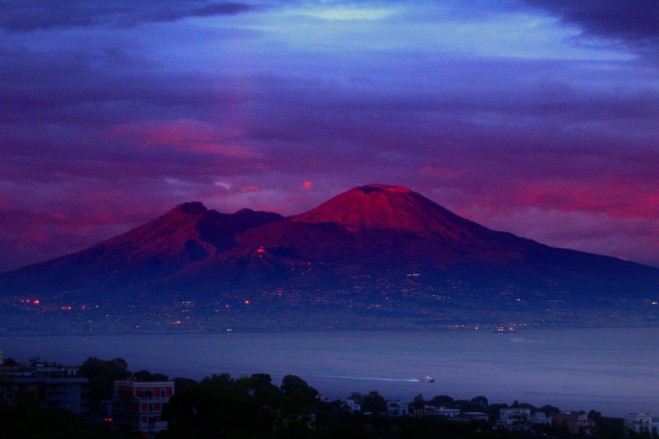 The Bay of Naples, where lies the submerged city of Baiae, a former Roman meeting place for the rich and famous. © Nigel Wilson / Foter / CC BY
Baiae in the Bay of Naples used to be a Roman seaside resort. In fact, it was one of the ultra luxurious resorts of Roman times, with swimming pools, casinos and the villas of Nero and Julius Caesar. So notorious was the place that Roman philosopher Seneca the Younger admonished it for being a "harbor of vice."
Near its end, around the 15th century, malaria drove the people out. The town itself gradually slipped into the Bay of Naples because of nearby volcanic activity. Nowadays known as the
Underwater Archeological Park of Baiae
, the town can be explored extensively with numerous sites still quite well preserved.
Turks and Caicos Islands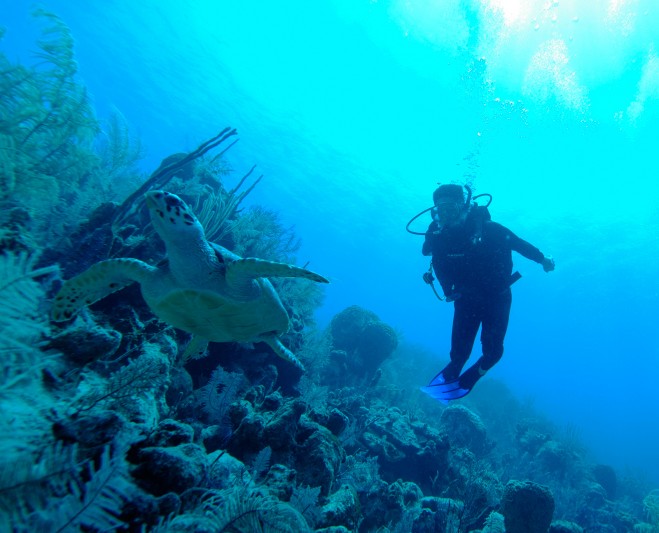 © eugene / Foter / CC BY-NC-SA
Enough of Europe, let's see what the rest of the world has to offer. Across the Atlantic ocean lie the Turk and Caicos islands. Home to one of the longest coral reefs in the world, they are becoming increasingly popular as diving destinations.
Hence, significant efforts are being made to preserve them. Large-scale developments have been put on hold and marine conservation funds have been created alongside the
Princess Alexandra National Park
. All of this makes the islands and their surrounding reefs an ideal diving spot for any conscious but curious diver.
Great Blue Hole, Belize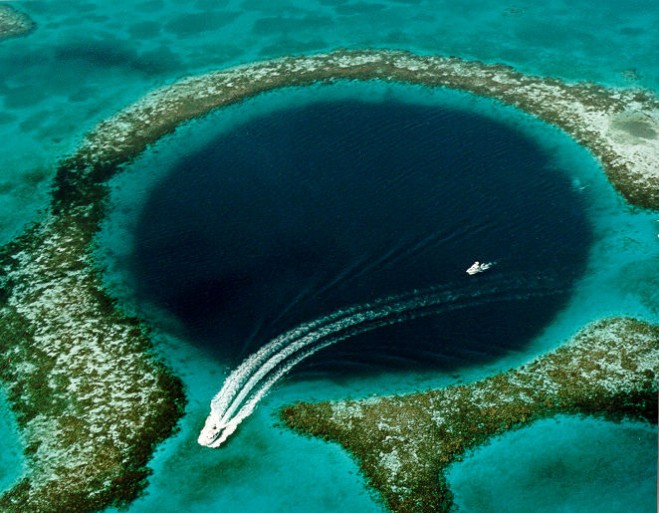 © Foter / Public Domain Mark 1.0
What would a list of amazing diving destinations be without the Great Blue Hole? The beginning of the hole's formation has been traced back to 153,000 years ago when it was still a cave. Stalactites that are still found in it today testify to its age. In the 70′s it was popularized by Jacques-Yves Cousteau who termed it one of the top ten diving destinations in the world.

The UNESCO Belize Barrier Reef Reserve System, in which the the Great Blue Hole is located, is one of the most diverse ecosystems in the world. More than 500 species of fish inhabit the reef and meeting parrotfish, groupers and sharks is quite normal.
Museo Subacuático de Arte, Cancún, México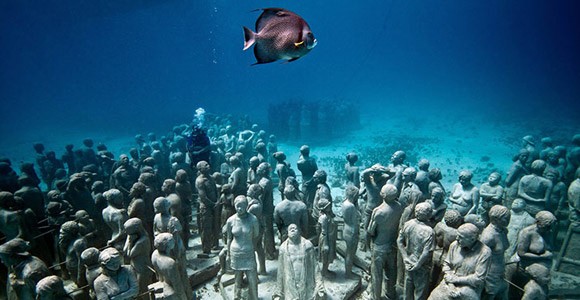 © Mav_ellal / Foter / CC BY
Away from ancient natural and man-made structures, here's an example of contemporary art at its best. If you ever thought museums were only supposed to be on land, you were wrong. The Museum of Underwater Art in Cancun is a beautiful example of how men and nature can interact. It consists of a couple hundred human life-sized cement sculptures. The piece pretty openly seeks to make a point about the inter-relatedness of all living beings on the planet.

From a pragmatic point of view, the purpose of the museum is twofold. On the one hand, it is intended to attract visitors and keep them away from natural reefs. The latter have been badly damaged by hurricanes and human activities over the last decades. At the same time, the museum itself serves as a place for new corals to form and start thriving, hence also supporting the ecosystem.
Conclusion
As usual, a blog post can hardly begin to describe the elusiveness and mystery of such places. And words ultimately fail us whenever we try to share our experiences and the sense of wonder that can live within us. Words can do one thing though, and that is to make us curious of that to which they point. And now that you know these places exist, don't you simply want to go?
About the author
Blogger
Over the years I've lived in various places - from Germany to Finland, to Bulgaria and Denmark, and have also traveled extensively. This has developed in me a keen love for moving, visiting and exploring new places. I enjoy hiking, sailing and traveling by sea, swimming, martial arts and all sorts of physical activities. I am deeply concerned about environmental issues and sustainable living, specifically those related to the preservation of the oceans and their inhabitants.