Adventures with Necker Belle - the private yacht of Sir Richard Branson
Feel like cruising around in the Caribbean? There's a variety of islands to visit - the Bahamas,
Antigua
, St. Lucia, St. Croix or
Barbados
. And why not Richard Branson's Necker Island? Especially now that the Great House has been reopened and is once again receiving guests, after it burned down in 2011 and was raised anew over the last 18 months.
And while on Necker Island, you also have the unique chance of chartering and sailing on board the Necker Belle - Richard Branson's world-famous personal charter catamaran yacht. There are many things worth mentioning about that particular yacht, so let's investigate, shall we?
From Lady Barbaretta to Necker Belle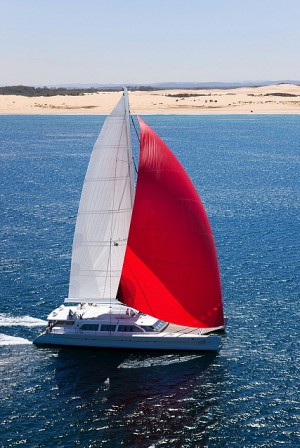 Super Yacht - Necker Belle © Andrea Francolini/Virgin Limited
Lady Barbaretta
, as the yacht was known previously, was launched in 2003 by the French shipyard CMN - Constructions Mécaniques de Normandi, with a design by Naval Architects CPA. An all-carbon, multi-hull catamaran, her LOA is 32m (approx. 105 feet) and her maximum speed under sail is an impressive 20 knots (18 when powered). The SUPER YACHT - Necker Belleboat was acquired sometime in late 2006/early 2007 by Sir Richard Branson for around £5.3 million. Next thing to happen was for her to receive an extensive refit, which lasted for about two years after which she emerged as the
Necker Belle
.
What distinguishes the catamaran from other boats in this category is the fact that she is among the few luxury catamarans in the world. She received her refit at Australia's Azzura Marine Shipyard as well as the Stewart Pinkerton Cabinetry which was considered very successful and even received the Judges' Special Commendation at the 2010 World Superyacht Awards. As her interior architect Jodie Duddington put it in an interview: "Sir Richard lives his life one experience at a time and I wanted to draw reference to his Necker Island residence yet express a more contemporary and pared back approach with the interior… so that the ocean and the experience of sailing become the 'hero.'"
Necker Belle provides sleeping space for a total of 10 guests and her 14 metre beam accommodates four cabins above the waterline that provide for beautiful vistas. Additionally, the main cabin's lounge area can also turn into a double cabin and there are also bunks for a total crew of 7 to take care of everything.
© by Diane M. Byrne
Apart from all the amenities that are indispensable to a luxury yacht, and the interior, which is designed in such a way as to mimic the feel and atmosphere of Necker Island itself, there's an additional luxury setting the yacht apart from others. That's the Necker Nymph, a 3-person submersible, a small open submarine in other words, which can dive to a depth of 30 metres and can be used for underwater travel and exploration of, say, shipwrecks, reefs, caves and others. The Nymph can move at up to 6 knots and was custom built for the yacht. Additionally, one can, of course, go scuba diving, water skiing or wakeboarding, using the catamaran's fast boat.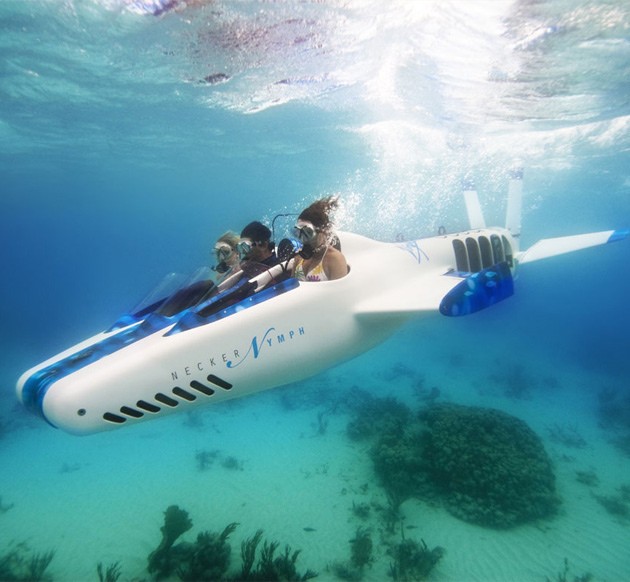 © All rights reserved by Headlines & Heroes
Currently, the Belle can be chartered whenever Sir Richard himself is not cruising around with some of his guests. The current weekly rate in 2013, according to the official website, is US$ 110,000.

Necker Belle is a catamaran to behold and deserves both fame and status as one of the most luxurious and comfortable catamaran yachts in the world. So, if you're considering a cruise around the Caribbean, why not book the Necker Belle?
About the author
Blogger
Over the years I've lived in various places - from Germany to Finland, to Bulgaria and Denmark, and have also traveled extensively. This has developed in me a keen love for moving, visiting and exploring new places. I enjoy hiking, sailing and traveling by sea, swimming, martial arts and all sorts of physical activities. I am deeply concerned about environmental issues and sustainable living, specifically those related to the preservation of the oceans and their inhabitants.