Spain & Balearic Islands
Siesta Or Fiesta
Spain is a country and member state of the European Union located in southwestern Europe. Its mainland is bordered to the south and east by the Mediterranean Sea; to the north by France, Andorra, and the Bay of Biscay; and to the northwest and west by the Atlantic Ocean and
Portugal
.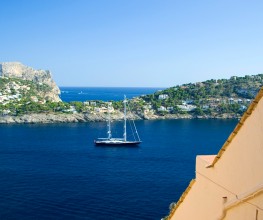 Photo gallery
A Windsurfer's Paradise
There are three seaboards to choose from: the Mediterranean, the Cantabrian and the Atlantic, all with an exceptional climate and a coastline which offers a whole world of possibilities. Spain is considered Europe's windsurfing Mecca. There are many reasons for this: thousands of kilometres of coastline, all kinds of wind conditions and a warm climate are just a few of them. It is no coincidence that Spanish beaches are a point of reference for windsurfing enthusiasts, as well as being the stage for regular international competitions. Any time of year is good for windsurfing in Spain.
Fascinating Landscapes
The Balearic Islands are a real paradise for lovers of the sea. They have an endless array of coves and anchoring sites to explore. There are routes around the island of
Majorca
to La Cabrera, and others that link the islands of Ibiza and Formentera. You can alternate sailing with enjoyment of the most beautiful anchoring spots in the Balearics, such as Espalmador, Playa de Poniente or Cala Sahona, amongst others. These places offer stunning sunsets, strolls along beaches with crystal clear waters, and even the chance to savour the finest Mediterranean cuisine.
Unbeatable Scuba Diving
The 63 kilometres of coastline in the Cabo de Gata-Níjar Nature Reserve are a genuine paradise for scuba diving and snorkelling enthusiasts. Come and discover the hidden coves, cliffs, unspoiled beaches and dunes at the edge of the shore in this desert-like landscape with its amazing coastline and crystal-clear waters, warm and clean all year round. Thanks to the excellent underwater visibility, the mild temperature of the water from January to December, the calmness of the sea, and over a thousand animal and plant species on the sea bed, this area is a popular choice for diving fans.

Luxury yacht charter

in the Balearic Islands of Mallorca,

Menorca

and Ibiza offers something for everyone; fantastic nightlife, top restaurants, historic towns and beautiful un-spoilt coves making these islands one of the most popular

charter destinations

in the Western Mediterranean.

Spain & Balearic Islands yacht charter

Create an exceptional holiday experience
Places to visit
Luxury yachts
Charter Spain & Balearic Islands onboard a luxury yacht