Where many vessels might call themselves 'explorers', Asteria is the true explorer vessel, having safely and very comfortably sailed to both the North and South Poles and through the North West Passage, as well as all around the world.
Yacht specifications
Year
1970
(Refit in 2002)
Asteria Yacht for Sale
ASTERIA was built in 1970 as an ocean-going salvage tug. She was completely refitted and converted to a luxury yacht in 2002 and has been consistently maintained and upgraded since.

ASTERIA is the ideal platform for relaxing, offering very generous space for entertaining guests. There is a sky lounge with an alfresco dining option for 12 and a wet bar. The main deck offers a formal dining area for 14 guests. Aft of the salon is a spacious lounge area, with fold away workstations. For a more private escape, there is the upper sundeck which features a spa tub with semi-circular sofa.

ASTERIA accommodates up to 12 guests in 6 suites, consisting of a master suite and 5 ensuite guest suites, comprising 4 doubles and 1 twin.

ASTERIA has an expansive helipad that can easily accommodate a 6-7 passenger helicopter, weighing up to 5 tonnes.

ASTERIA has a regal yet comfortable interior with fine quality woods, lovely neutral toned soft furnishings, impressive marble counters and a stylish décor.
* All details are given in good faith and are thought to be accurate but are not guaranteed
Yacht sales
Buy this yacht through bluewater
We will carefully guide you through the intricate sales process
Related news
News about Asteria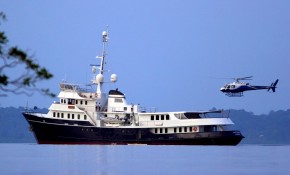 Bluewater is delighted to announce the sale of the 49m exploration yacht ASTERIA.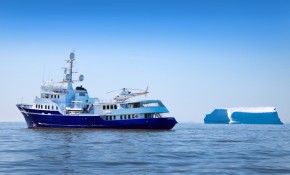 Bluewater is delighted to announce that the 49m yacht ASTERIA is for sale and asking US$8,750,000, following a US$2.75 million price cut.