Tempest Marine Yachts
Yachts for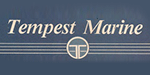 Browse our selection of some of the finest Tempest Marine yachts for .
Tempest Marine combined luxury and quality in the construction of their vessels. their slogan in an 80s advertisement flyer: We build them hot, fast & strong. They first launched the Europa 32 which, due to high popularity, led them to construct a line of Europa
yachts
. It's slogan for this particular model: fanatically perfect, unquestionably strong. Amongst their constructions are also the 44' Riviera, 44' Monte Carlo and 44' Sportfish.
More information ?
For more information regarding those Tempest Marine yachts, please contact a yacht broker.