The Lifeboat Carol Concert
This year on Friday the 6th of December bluewater will be collaborating with Riviera International Singers Choir and hosting our 3rd annual Christmas Carol Concert to raise money for our local SNSM lifeboat.
Every year for the past 3, we have held this Christmas Concert in various places around the old town of Antibes and Cannes to celebrate the festive period.

People gather to enjoy the company, the festive atmosphere and to have a right good old sing along!

Christmas time is all about giving, and the lifeboat relies entirely on donations. It is manned by a volunteer crew who give their time and risk their lives for no financial reward. They are on emergency call 24/7, 365 days of the year.

Antibes SNSM Lifeboat is the largest lifeboat in Alpes Maritime department - providing sea rescue around the Cote D Azur and sometimes on occasion called out almost as far as Corsica - so the fundraising is all for an excellent cause!

Here at bluewater, we are proud to support and give charity to our local lifeboat service - while having a good time and getting in the Christmas spirit of course!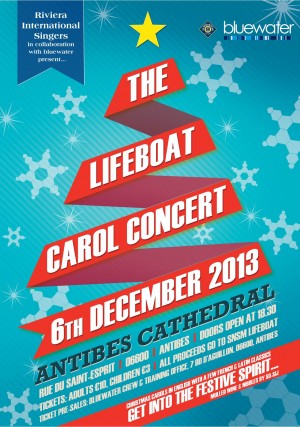 The concert will be held at Antibes Cathedral, Rue Du Saint-Esprit, in Antibes.
The doors open at 18h30 and once the concert comes to a close, there will be some lovely mulled wine and some home-made sausage nibbles courtesy of So-Sij.
Join us and enjoy the sweet cosy Christmas atmosphere in the cathedral, wonderful surroundings and shiny decorations. The lovely lit candles and sweet smells of incense burning sure gets you in the mood for the festivities and makes the night a great experience.
If you want to get yourself in the Christmas spirit, come join in the fun, sing along and enjoy a nice time with some local people getting ready for the festive season!
Tickets prices are sold at €10 for adults and €3 for kids. They can be purchased from our bluewater crew and training office which is located at 7 Boulevard D'Aguillon, Antibes. Please contact us for any further information on +33 493 34 47 73.