The Caribbean is the place to be this Winter!
Antigua was once again an excellent host for its annual, world-renowned, Caribbean Charter Show. The Bluewater team enjoyed viewing the 60+ charter yachts present, meeting with their crews, many of which have been placed and trained by Bluewater, along with evaluating the quality of service and presentation on board.

Bluewater knows the importance of participating in and attending these shows gaining the precious knowledge needed to custom tailor yacht selections to meet each client's requests and desires, resulting in a high-end luxury charter experience where the level of service surpasses each client's expectations. On display and participating in all the show had to offer Bluewater was Caribbean based M/Y Just Enough, a 141' tri-deck luxury yacht with an exemplary crew of 9, led by Captain Brandon Washington.
-
JUST ENOUGH
hosted several
Broker Lunches
where the crew and Top-rated Charter Chef
@TerryGatewood
were able to show off their skills! Check out his
menu here
and follow him on
Instagram!
- JUST ENOUGH hosted a fabulous Caribbean themed night during the famous and much appreciated
Yacht Hop
featuring endless apps, signature punch, lively music and dancing the night away!
- Bluewater and JUST ENOUGH hosted a fabulous
Sail Day
onboard which was just a 'taste' of what JUST ENOUGH has to offer during a charter. Cruising Antigua's stunning coastline and pristine waters arriving at Five Islands Harbour, the sailing day captured fun, games, a selfie contest, teambuilding, endless service from the interior and chef, as well as an amazing display of never-ending ENERGY from the Deck crew who not only taught our guests how to use the water toys but also joined in, including jet skis, sea bobs, foot pedal SUP's and more!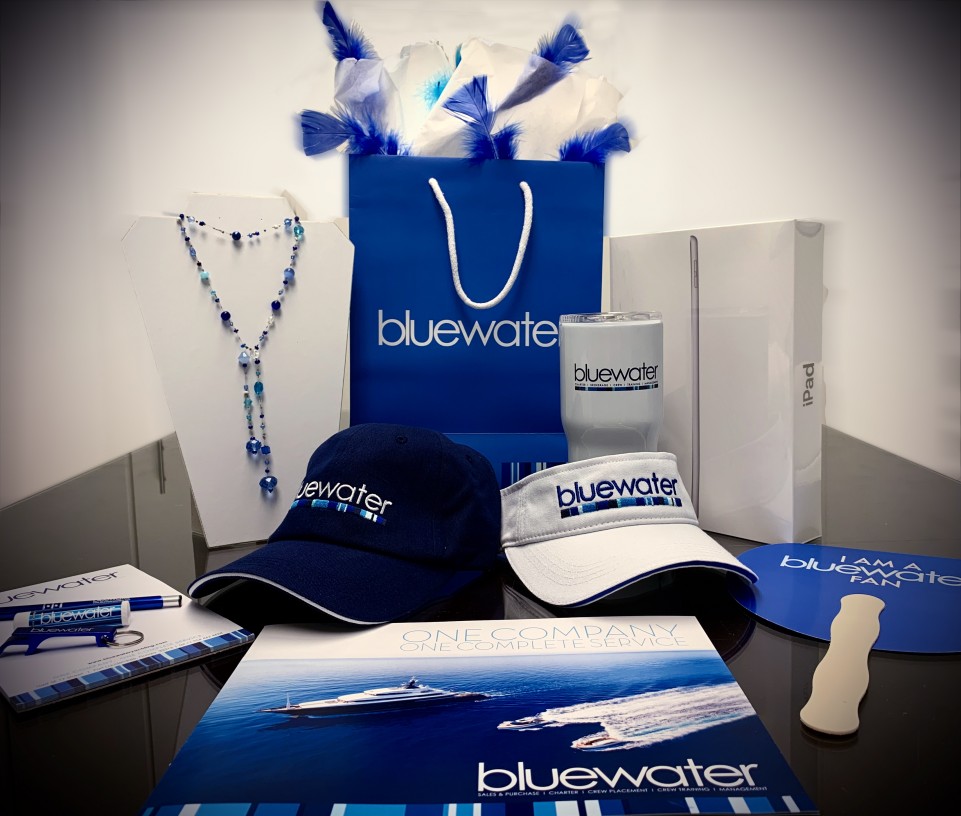 - Bluewater sponsored the
Concours de Chef and Stewardess/Steward Table Setting Competitions
with iPads, Bluewater branded tumblers, handcrafted jewelry, and fabulous bluewater swag.
JUST ENOUGH
participated in the competition as well.
Broker Feedback
"It was such a great day experiencing the yacht and wonderful crew. I'm definitely going to propose it to clients, without hesitation."

"The crew did an amazing job corralling 20 of us and keeping us happy. I was frankly amazed how quickly the deck crew got the toys out and ready to roll …super competent! And of course how they pitched in on service and getting drinks (including running drinks AND food for the "floating islanders"). Really just a stellar team and it shows!

I was recapping the show and lunches to my husband over dinner (a very simple roast chicken and veggies) and showing him lunch photos…and saying how happy I was to just have some good home cooking after all the fancy stuff. He said yeah it's nice, but would you want it every meal for a week? I'd want burgers and wings if I was out on the water all day doing sports etc.….and I told him that BLESSEDLY that's EXACTLY what the Chef on my sail day provided!!!! Seriously….it's true…Terry did an awesome job with wings, fish, sliders and the pork belly, as well as the generous hors d'oeuvres spread. SOME REAL FOOD that was very much appreciated!!! (I bet more so for the "rose all day" set…they needed something solid in their tummies methinks!). Please, please thank him!

Boat looks great, crew is absolutely fabulous, total winner! Thanks so much for having me onboard, and hoping Brandon might do a little detour over to STX this season…he said he has a friend based here now so fingers crossed I have a chance to return the hospitality ; )"

"To experience a vessel such as Just Enough, was a true privilege. The Captain and his Crew made us all welcome. You can have a good boat with an average crew, but when you get a Great Boat with a Great Crew, you get an awesome experience. An awesome experience was had."

"Thank you so much for a wonderful day on Monday, it was a terrific end to a brilliant show. The Bluewater team and the JUST ENOUGH team did more than enough to make the day extremely memorable!"

"I can't thank you enough for being able to experience a day on M/Y Just Enough. I had so much fun! Everything that your talented chef brought out was incredible and the stews couldn't have been nicer"

"The boat is in great shape and the crew is awesome! Looking forward to presenting her to the right guest for future bookings"

"I love Terry and Capt. Brandon and would have no hesitation in booking clients on the boat. Oh and also I thought the boat looked great!"

"Thank you so much for the invitation and opportunity to be on Just Enough. Lunch was delicious, the yacht looked great and it was a sincere pleasure. The combination of a great yacht, owner, crew and charter marketing company makes my job easier and I greatly appreciate your efforts. 😊."