Luxury yacht charter in Malaysia and Thailand
The truly impressive MY SANS ABRI will be based in South East Asia this Winter! Offering far flung hideaways with palm trees, white sand beaches and implausibly blue waters, South East Asia is awash with stunning
destinations
and is emerging as one of the must-do
charter destinations
of the moment.
If you are looking to to go on a dream vacation where you can enjoy the latest in modern technology and also escape to untouched beaches and exotic rain-forests, then
Malaysia
is the place for you. You can relax in the serene surroundings, explore some of the best
dive sites
in the world, or spend the evening dining and dancing the night away in the Twin Tours, one of the tallest buildings in the world.
Thailand, the Land of Smiles, is also only a hop, skip and jump away and the Andaman Sea is an area full of intrigue and discovery.
Chartering a yacht affords you the luxury of travelling to suit your mood. M/Y Sans Abri is a stunning 27 meter
Ferretti
available for charter from Langkawi, Malaysia from 11.01.14 to 23.03.14. Join the fantastic crew on board this winter for some tropical luxury, sensational gastronomy and an unforgettable experience.
With so many fabulous features on offer from this gorgeous new charter yacht you just need to decide the perfect setting for your castaway adventures! The Captain and crew will be at your service to offer you a tailored unforgettable itinerary.
To find out more on how to have the holiday of a lifetime, call us now.
M/Y Sans Abri
Speed
22 knots
(Cruising)
Contact information
Yacht Charter Specialist
+33 620 20 06 11
Related news
Learn more about this subject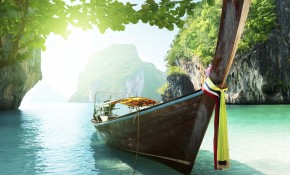 If you're not convinced that Autumn at Sea in Beautiful Scandinavia is a good idea, there's always another yacht charter you can take. Like the one that will take you to Southeast Asia where you can relax and enjoy a professional Thai massage in the company of the sun while blizzards rage in the Northern hemisphere. Here are five enchanting places to visit in Southeast Asia this fall or winter.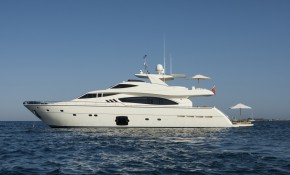 Bluewater are thrilled to announce their new CA - SANS ABRI! This truly stunning Ferretti is new to the Charter market - delivered Autumn 2012 - and available in the South of France from the middle of August.