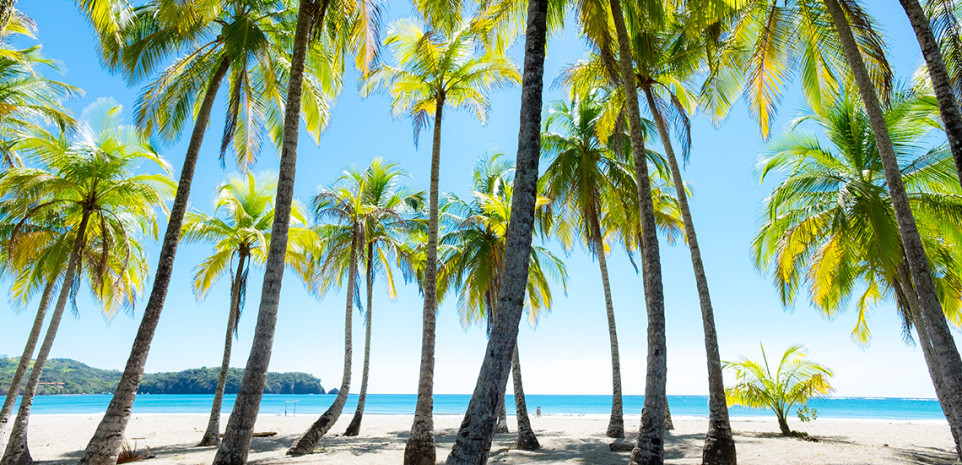 Guanacaste
The coast of Guanacaste is the golden child of Costa Rica tourism — a sunny place of stunning white sand beaches, dry, sunny weather, and a growing number of luxury spa and golf resorts. The most exclusive area is the Papagayo Peninsula, a yachting playground of secluded horseshoe bays and high-end resorts. Dock your yacht at the superb IYG superyacht marina, dine and spa at the Four Seasons, and play a round at the magnificent Arnold Palmer-designed golf course. The Papagayo Peninsula is a green oasis of lush forest and turquoise waters, where long days are spent swimming in perfect blue-green coves and wandering through the dense forest, howler monkeys chattering in the canopy.
Nicoya Peninsula
The stunning Nicoya Peninsula is a little harder to get to and, therefore, less developed than Guanacaste, at least for now. Long considered a bit of an off-grid secret, the area is becoming increasingly popular as tourists discover the beautiful beaches of Malpais and Santa Teresa. At the same time, the laid-back surfer town of Nosares draws people with its yoga treats, turtle nesting sites and Pacific breaks.
The Northern Zone (Inland)
From Guanacaste, we strongly suggest a trip inland to the Arenal volcano, where you can soak in hot springs at thermal spa resorts, go hiking, or even enjoy some of the best windsurfing/kitesurfing in the world on Lake Arenal, view of the volcano in the distance. The Northern Zone also offers the unmissable Monteverde Cloud Forest, where jaguars, ocelots, pumas and spider monkeys hide in the trees, and you can spot unique bird species, including the resplendent quetzal. Walk across suspension bridges in the clouds or zipline through the canopy in this biodiversity hotspot.
Central Coast
The north of this good-time coast is littered with hotels and bars, but the Manuel Antonio National Park earns this region its spot on the must-travel list. Manuel Antonio is a relatively small reserve, but it packs a punch, with its forests home to three-toed sloths, toucans and macaws, crocodiles, and a whole host of monkeys, including white-faced capuchin monkeys, squirrel monkeys, and howler monkeys. The hills roll down to some of Costa Rica's best beaches, including one showstopper with two crescent beaches back-to-back, separated only by a thin strip of rainforest.
The activities in Manuel Antonio are abundant, including horse-riding on the beach, ziplining, waterfall rappelling, hot springs in the jungle, kayaking up rainforest streams, and snorkelling coral reefs just off the coast. As you cruise south from Manuel Antonio, you come to a pristine, undeveloped area of steep, jungled coastline and the quiet, wide beaches of Dominical, Matapalo and Uvita. Rent a horse and gallop to your heart's content.