© Sailing Yacht Che - Bluewater Yachting
After all, what would yachting be without crystal clear seas, pristine beaches, and vibrant reefs?
(That's a rhetorical question: we all know the yachting industry would be dead in the water.) Which is why we're so excited about the direction that the yachting industry is headed. And that direction is green. Or should we say, blue-green? With an explosion of eco-friendly technologies, materials and practices sweeping the superyacht fleet, the future is genuinely bright for eco-conscious yachting. Some charter yachts are already leaders in this field, with a growing number of 'green' charter yachts owned by passionate owners and supported by passionate yacht crew. The demand for eco-friendly charter yachts is also booming, as charter guests also want to show respect to the ocean that they love. Bluewater is fully behind this change, offering a range of eco-friendly charter yachts that combine all the superyacht extravagances with a great deal of respect for the natural world. Here are a few green yachting trends and technologies making a difference, as well as some of the yachts that feature them.
The Hybrid Propulsion Revolution
Superyachts use a lot of fuel, and traditionally, that fuel has been diesel. However, there's a propulsion revolution going on in the yachting industry, with a significant uptake of hybrid diesel-electric propulsion, often slashing fuel consumption by 30-40% in a single stroke. The rise of hybrid propulsion began in 2015 with the launch of superyacht Savannah. But the revolution isn't stopping there. The titans of yacht building have thrown their weight behind eco-friendly propulsion systems, with Feadship announcing it will move away from diesel before 2030, and Lurssen planning to launch its first hydrogen propulsion yacht in 2025. Better battery storage will also be a game-changer in this sector. The word is that luxury yacht builders are increasingly making a stand in encouraging yacht owners to adopt these eco-friendly technologies in their yacht builds. Exciting times! Charter yachts with hybrid propulsion include: Savannah, Home, Curiosity & Quinta Esssentia
Saving Fuel Effortlessly with Efficient Hull Design
Massive fuel savings (and therefore emissions reductions) have been made by going back to the drawing table and rethinking hull design. Hulls create drag when moving through the water, therefore, less drag = less fuel it takes to power the yacht. Once a more efficient hull design was realised, it proved an exquisitely simple eco-solution, delivering fuel savings on average of 30%. There have been some groundbreaking changes in hull design in recent years. The first efficient hull design yacht was Falco Moscata (ex Exuma), which won a plethora of awards for its environmental credentials. Another major breakthrough was the Fast Displacement Hull Form (FDHF) designed by Van Oossanen Architects, which was recently used to build Heesen yacht Home, one of the most eco-friendly charter yachts in the superyacht fleet. Efficient hull design is now a major requirement of new build owners, delivering a happy synergy of both fuel savings and eco-credentials. Superyachts with efficient hull design include: Home, Falco Moscata.
Solar Panels: Making 'Hay' While the Sun Shines
Yachting is largely a sunny endeavour, and some yachts are maximising the many hours of sunshine to reduce generator use (and therefore diesel use) on their yacht. There are a relatively small number of yachts with solar panels at this stage, but standouts include Haze, an innovative 29m charter superyacht, and Sun, a 35m Arcadia yacht with solar panels integrated into the superstructure. The use of solar panels significantly reduces the need for generators to power the yacht's daily operations.
Clean Air, Clean Water: Emissions Filters & Water Treatment
Ok, now without getting too technical about it, there have been some very exciting advancements in pollution reduction for yachts. Bear with me. Yachts can emit pollution in two ways, into the air, and into the water. But new technologies allow them to slash these pollutants to very minute quantities, making yachting cleaner and greener all-round. Air Pollution Reduction: Yachts are now able to use engine filters which reduce NOx and SOx emissions by 99.8%, and retain 99.8% of soot particles. Water Pollution Reduction: Superyachts are installing state-of-the-art water treatment plants to ensure outgoing grey water is not harmful to the environment. Clean air, clean water, clean conscience. Happy cruising!
Be the Change: Eco-Friendly Materials and Products On Board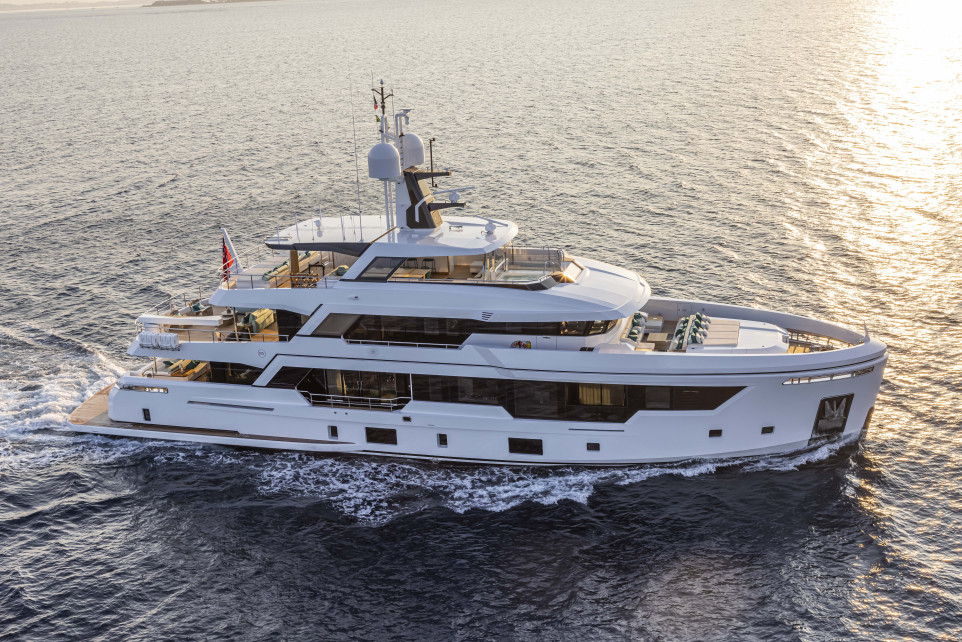 Motor Yacht Emocean For Charter
It's not all about technology. There is also a sea change happening in the use of materials onboard, with eco-friendly alternatives to everything from decking materials to yacht fabrics. There's also been a considerable move towards using only eco-friendly products onboard, such as biodegradable cleaning products, reef-friendly sunscreens, non-toxic anti-fouling, and a massive reduction in those pesky single-use plastics such as plastic water bottles. Charter yacht Emocean is a standout in this regard, utilising biodegradable products, interior fabrics made with recycled ocean plastic, recycled crew uniforms and replacement of plastic water bottles with a water dispenser system. Emocean also gives preference to using suppliers who have a good environmental record, thereby influencing more change in the industry. By requesting that the yacht uses products that don't harm the marine environment. Charter guests and crew can make a really big impact. Which charter yachts are implementing eco-products and practices: So many! Standouts include Emocean, Home, Savannah and Dunia Baru.
Environmental Work: A Floating Research Facility
Some charter yacht owners also set their yachts up as a research facility, with yachts such as Dunia Baru hosting marine biologists on research trips to study Indonesia's marine biodiversity. Charter yachts conducting environmental research onboard: Dunia Baru.
A Growing Blue-Green Wave
All of us are in this industry for one shared reason: our love of the ocean. From the wealthiest yacht owner to the newest of junior crew, we all have a vested interest —and a shared obligation — to look after the ocean that we love and depend on. As awareness grows, more owners 'get on board', and more charterers request eco-friendly yachts, this blue-green wave will only continue to grow. Bluewater is proud to be an active part of this change. It's a very exciting time to be in yachting!