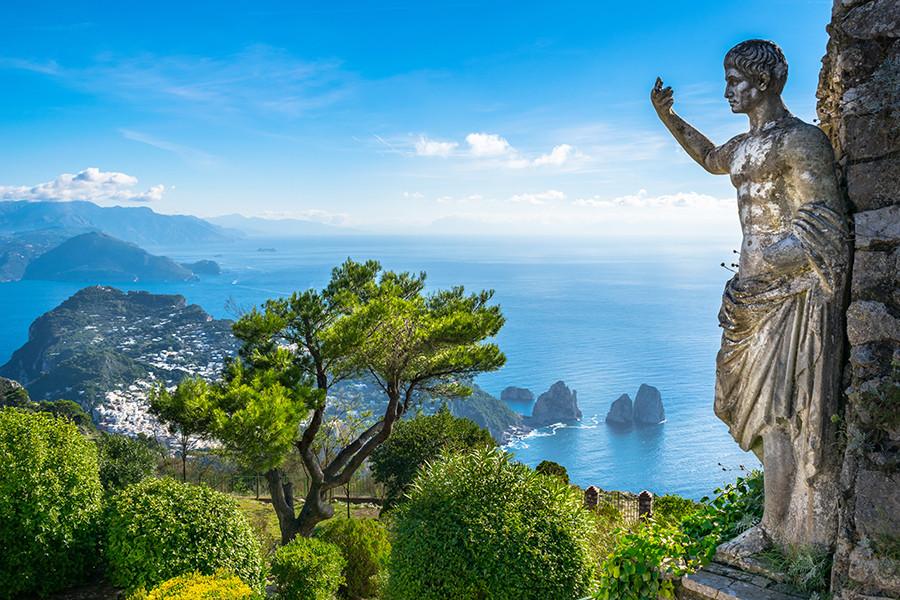 Port Hercules, Monaco
Port Hercules, possibly the most glamorous superyacht port on earth, sits in the shadow of the royal palace. Around it, the steep hills are dotted with high rises and art-deco hotels, and the legendary Monaco Grand Prix racetrack winds down to Rascasse bend.
Begin off your French Riviera charter with dinner at the 3-Michelin star Le Louis XV at the Hotel de Paris, and a night at the casino de Monte Carlo, where bright yellow Lamborghinis pull up outside under the palms, and royals and race car drivers live out their James Bond fantasies at blackjack tables under gold-dipped chandeliers. The next morning, breakfast on deck as you cruise out beyond the mighty cliffs of Monaco and make your leisurely way down the sunny, flowery Riviera to Saint Tropez.
Music to get you in the cruising mood: Shirley Bassey's Love Story (Where Do I Begin) Away Team Remix. If there's a better song to belt out on the stereo as you cruise along the French Riviera on a superyacht than this remix of Bassey's classic power ballad, we would very much like to know what it is. Bassey lives in Monaco and is a frequent guest on superyachts, so this song feels just right. You'll want it on repeat: it will soon become your summer yachting anthem.
Dubrovnik, Croatia.
With its mighty ramparts guarding the Dalmatian coastline, the medieval city of Dubrovnik is a magical place to begin a Croatia yacht charter. Behind the thick walls lie a warren of narrow laneways, hole-in-the-wall bars, and orange groves with breathtaking views across the Adriatic.
Game of Thrones fans will be in their element visiting film set locations, music fans will enjoy summertime concerts in ancient squares, and foodies will delight in dining at the Michelin starred 360, where white cloth tables sit on the rooftop set into the city walls. Get your thrills the next morning by jumping off the high ramparts into the cobalt-blue sea, before casting off into the islands on your superyacht.
Music to get you in the cruising mood: Crank Ivo Robić's - Samo Jednom se Ljubi. Tempting as it may be to pop the Game of Thrones soundtrack on and imagine dragons flying above the ramparts (and you wouldn't be the first to do so), we recommend something classically Croatian instead. up on the stereo as you cruise out into the Dalmatian islands, and it will propel you headlong into the exotic, olde-worlde elegance of this splendid, splendid place.
Naples, Italy
Begin your Amalfi yacht charter in Naples, a slightly gritty yet fabulously historic city in the shadow of Mount Vesuvius. Naples is the gateway to the Amalfi Coast, and you can fit in a morning visit to Pompeii before heading out into the jaw-dropping beauty of the Amalfi Coast, floating through the gems of Ischia, Capri, Ravello, Sorrento, Positano and Amalfi.
Explore this extraordinary landscape of citrus groves and bright pink bougainvillaea and visit pastel-painted villages perched high above the blue-green sea. Bathe in Ischia's hot springs, float through the Blue Grotto in Capri, and finish your day with a spot of shopping in Positano and a long dinner on a candlelit terrace shaded by lemon trees.
Music to get you in the mood. Listening to Pavarotti sing Nessun Dorma in your house is one thing. Listening to it as the cliffs of Capri come into sight is another thing entirely. Turn it up loud and experience frissons, as you listen to one of the greatest singers the world has ever known. What's even better? Every time you hear that song, you will be transported back to this very moment on a superyacht charter on the Amalfi Coast.