What to Expect at the 2013 International Boat Show in Xiamen
China, along with the rest of the Asian market, has seen a great expansion in the luxury goods market. In fact, its growth has been so strong that many now predict that, despite slowdowns caused by the recession, Asia will be the main driver in this sector in the near future.
© http://www.xmboatshow.com/
China alone, with its approximately 13 million affluent families, is predicted to account for
20% of the market by 2015
. Thus, makers of luxury yachts, cars, watches, high-end fashion designers and other manufacturers of exclusive goods have focused their efforts on meeting Asian customers' growing demands. Numerous events showcasing these products are organized, bringing connoisseurs from all over the world. The 2013 International Boat Show in Xiamen is one of them and there are many reasons to go.
Xiamen
Xiamen is one of the larger cities on China's southeast coast. A treaty port since the 19th century, Xiamen boasts a strong economy and manages to attract diverse foreign investments. The Xiamen port is among the busiest in China, but the city has preserved its tree-lined picturesque beaches. A key component of the city's booming industry is also the Xiamen Hansheng Yacht Building Co., manufacturer of large and mid-sized motor yachts, sailing cruisers and sightseeing boats, among others.
Art connoisseurs will be happy to know that Xiamen's cultural life has much to offer. The Xiamen Haicang Oil Painting Village has two large manufacturing bases for hand- painted oil artworks and about 3,000 painters. Another must-see place is the Gulangyu Island which is only accessible by boat because cars are banned. It's popular as China's only piano museum, the island resounding to the melodic tune of numerous pianists.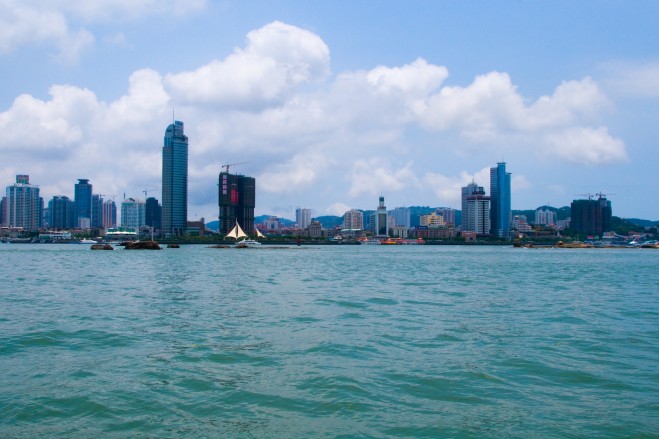 Xiamen Island © lamicheweilian / Flickr / CC BY-NC-ND
The Xiamen Boat Show 2013
This year's
Xiamen Boat Show
– the sixth – will take place from 8-11 November. It's organized by the China Association of the National Shipbuilding Association (CANSI) and will be hosted at the Xiamen Marina. Previous shows, all very successful, have always attracted businessmen dealing with yacht sales and other marine products, as well as boat connoisseurs in search of the latest developments in the industry.
With a total area of 55,000 square meters and more than 350 berths, the Xiamen Boat Show is the largest event of its kind in all of China. A total of 5,000 square meters are dedicated to an indoor exhibition, displaying technical equipment and hosting the Yacht Club. Another 20,000 square meters, right on Xiamen Marina's coastal square, will exhibit luxury yachts and sailing boats and their accessories. Some service providers will also be there. Finally, the boat show boasts 30,000 square miles of on-water display area with more luxury yachts and boats available for a trial. A growing number of Chinese upmarket yacht brands will be there as well, a logical consequence of China's booming domestic market.

China (Xiamen) International Boat Show
But the Xiamen Boat Show is more than just an exhibition; it includes a lot of other fun activities such as "French marine culture activities, yacht trial driving, yacht baby competitions, yacht photography competitions and a yacht test tour". In addition to luxury yachts and boats, toys and equipment for water sports will also be offered. Finance experts will also be there, offering exclusive deals for funding and insuring your purchase. Although not revealing any names, the program will feature performances from international stars and other events hosted by a number of Chinese millionaires. Luxury lifestyle brands from other areas will also have a zone dedicated to them. On display will be a range of high-end automobiles, helicopters and airplanes, as well as real estate offers.
If you are an expert from the yachting industry, you will surely benefit from the partnering meeting, aiming to bring together Chinese and foreign enterprises in search of collaborations. Another networking opportunity will be the Owner's Day, organized by
Azimut Yachts
.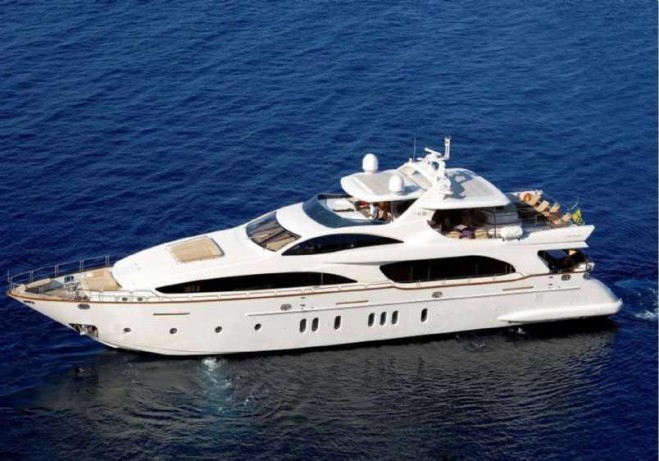 Azimut is one of the brands presented at the show
About the author
Blogger
The first thing about me is that I love travelling. So far I have been to a few European countries and the United States, but one day I want to make a trip around the world. In my spare time I like reading books, jogging, growing vegetables and planning road trips and hikes to beautiful places. I am a psychology graduate that is eager to learn something new every day.