Summer School for teens! Essential Yachting Qualifications
Five years ago now, aspiring superyacht deckhand Oli Travers from the UK left his home in London to take some all-important
courses
and see if there is work out there for an enthusiastic new crew member, keen to learn the ropes and get onto the first rung of the career ladder.
Oli tracked his progress from leaving home, to his arrival in the South of France, taking Blue Water Yachting's Summer School course,
looking for work
and hopefully finding it. Here is Oli's first installment…
Introduction
"Hello and welcome to my blog. My name is Oli Travers and on the 27th of July 2010, I completed Blue Water Yachting's new course for young yachtie's called the Summer School Course (for 16- to 18-year-olds). The course included the STCW 95, Powerboat Level II, VHF and Personal Watercraft Licence (Jet Ski), it was the first course of its kind and was really good fun, and greatly useful course!
The course was five years ago now; I was 18 years old, had just finished my A-levels and was looking for work in the superyacht industry as a deckhand. Why the superyacht industry you might ask? Well, having spent many a summer on family sailing holidays, a job on a superyacht – or gin palace, as people on Oceanis 411s like to refer to them – has always been a dream. The superyacht industry offers a complete change to the normal life, fantastic opportunities, chances to experience new things, visit new places and earn some money at the same time! (Although I was warned at the time it wasn't all rosy and that life as a deckhand could prove to be a considerable shock to the system!)
Getting work on a yacht without a number of qualifications and some "on-water" experience, however, was difficult. As a wannabe newbie deckhand without any experience, qualifications were especially important. The Blue Water Yachting course ticked all the boxes: qualifications, plenty of time on the water and good fun.
Looking back I remember being very excited about getting there, about staying in the
Glamorgan
crew house and visiting the famous
Blue Lady Pub
."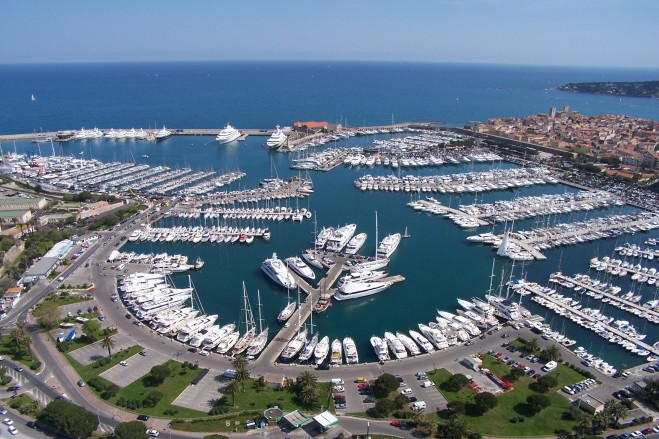 Port Vauban Antibes
Day 1
"Day one started with the RYA Powerboat Level II course, which is honestly a great way to start your time in Antibes. The powerboat level II is a continuous two-day assessment, with much of the time spent on the water. There were six of us altogether during this first week of the course but to ensure that everyone got plenty of time to drive the boats, Bluewater divided us into two groups of three.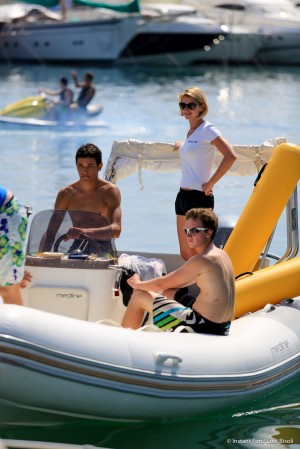 Driving in Port Vauban
Day one's morning session was spent doing practical work on the water: a hot, sunny morning on the deep blue sea – what could be better? Mooring manoeuvres, buoy moorings, man overboard procedures and tight marina manoeuvres, all ensured an exhilarating but exhausting morning. The small group allowed us all to take advantage of the abundance of driving time and by 1.30pm we were all exhausted, hungry and looking forward the classroom lesson in the afternoon.
Back-to-back theory sessions followed that afternoon and the following morning. Covering a range of subjects: Keith, our instructor, briefed us on the so-called "rules of the road" (outlining the laws of power-boating), how to tie suitable knots and how to effectively use charts and GPS (a pretty key skill in an area of the Med where depths are often just one or two metres and a combination of rocks and diving wrecks cover much of the seabed.) Classroom sessions may sound dull, but this couldn't be further from the truth. Keith's wide array of stories kept us entertained while at the same time motivating us with a go in Bluewater's bridge simulator. The simulator behaves like the bridge of a 70-metre yacht with all the latest equipment and is the only one of its kind in Antibes."
Day 2
Lunch came early on day two to ensure a long afternoon practical session aboard our study RIB. The first part of the afternoon was spent nailing our moorings and manoeuvrings. The improvement since we started the course was remarkable (even if I say so myself!) and Keith happily allowed us to practice our newfound skills as we parked up next to 40-metre palaces – only occasionally having to step in to prevent catastrophe!
Finally, the three newly qualified powerboat maestros headed once again to the open seas hoping to test the accuracy of our charting skills. With multiple man overboard situations en route and having mastered the art of securely anchoring in a bay – the correct bay it is worth adding – we briefly recouped and bathed in the sunshine of the French Riviera before we rocketed back towards Antibes and Port Vauban with three newly qualified Powerboat Level II yachtie's aboard."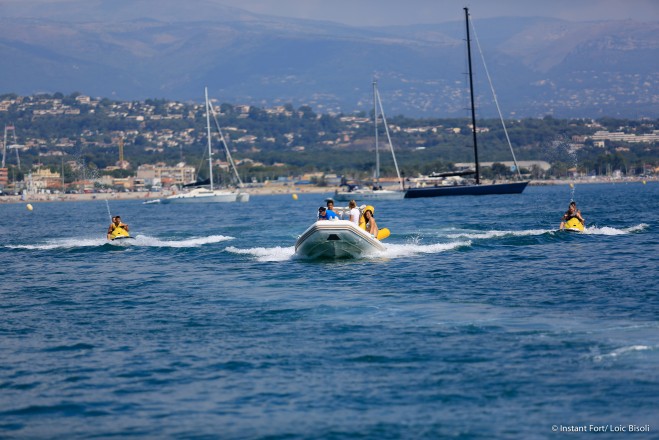 Driving in Port Vauban, Antibes
Day 3
"What a day this was! The Personal Watercraft Course (PWC) otherwise known as the Jet Ski Licence was a fantastic course, with over half a day spent on the water followed by a brief classroom session.
Personally, I didn't find the course overly challenging nor did the others but it is, undoubtedly, both great fun and exciting.
While many people will have used jet skis in the past, few will have used them correctly and even fewer will have used them safely. The PWC tackles emergency stops, high-speed manoeuvres, capsizing along with much of the theory covered in Powerboat II. Although clearly an incredibly fun day, the PWC also has a serious side to it. Jet skis provide the same type of thrill as riding a motorcycle and are becoming increasingly popular. However, many jetskis have no braking mechanism. They coast to a stop – and while coasting they have severely restricted manoeuvrability. Unlike traditional boats, jetskis are rudderless. When the throttle is off, a speeding jetski has been compared to a car sliding on ice because it cannot stop nor turn, and the driver has virtually no control. It is for this reason that the PWC is so vital. Indeed, in France it is illegal to use a jetski without such a licence or whilst not under the guidance of a qualified instructor.
Having said this, jetskiing is fantastic fun and the course certainly lived up to its expectations: they have adrenalin-pumping speed and serious agility. Indeed, because of this, the manoeuvres are all exciting to learn and practise, satisfying to master and exhilarating at the same time."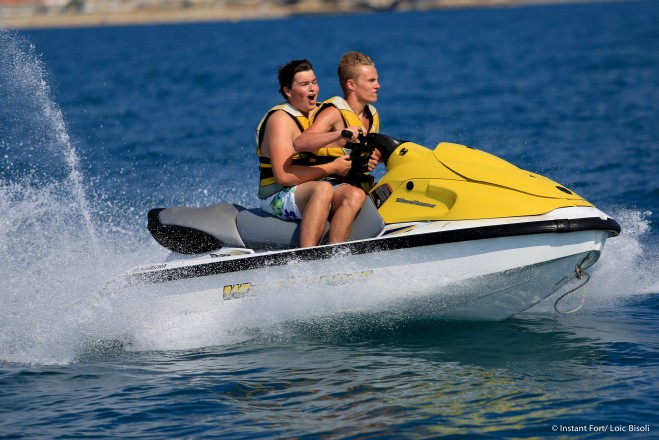 Jet skiing in Antibes
Day 4
"Three Blue Water Yachting courses in four days is pretty hectic stuff. First the Powerboat Level II, then Jetski and finally the first week ended with the VHF licence. The VHF is undoubtedly the most challenging of these first qualifications: the only one to include a final exam and the only to be solely theory based. The course consists of material, which you're less likely to have previously experienced. While many will understand the idea of mayday signals and heard of pan-pan calls, few know about equipment such as SARTs (search and rescue transmitters) and EPIRBs (emergency position indicating radio beacons), all of which is covered in the course and all of which are essential on superyachts.
Indeed, while the course is technically a theory-based course, Blue Water clearly goes to great lengths to ensure as much interaction and practical experience as possible. Throughout the day Rod, our instructor, continually got us to practise with the whole range of technology in the classroom, whether it was with the more simplistic VHFs or more complicated equipment such as NAVTEX.
It has become clear throughout the week that Blue Water has quality equipment for all its courses: modern, well maintained and top of the range. Similarly, this equipment is in abundance down here in Antibes. For the VHF course the previously smaller groups of three were combined (which was fantastic). Yet despite this larger group there was more than enough practical equipment for everyone and at every possible opportunity a number of distress calls flew around the room, creating a never-ending alarm for Rod to contend with.
To top the end of the week off with a bang the famous Blah Blah's were playng at Le Gaff… Good times!"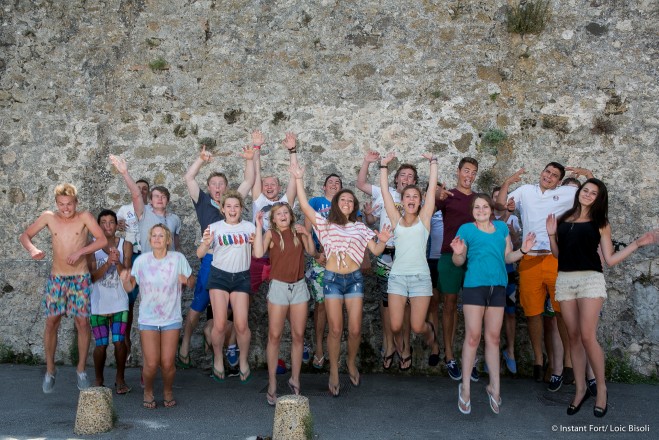 Thank you very much to Oli for giving us this very interesting insight into summer school. We hope that he has shown you about how much fun and educational the course is and also the importance of these courses to land your first yacht job!
For more information on finding that first job please check out our article on 'Make your break into yachting';
www.bluewateryachting.com/news/make-your-break-into-yachting-528
Or contact our crew & training office to make your Summer School booking now!!
Tel: +33 493 34 47 73
Email:
training@bluewateryachting.com