Musings from my Australian vacation
My favorite vacation was in 2003 when I took my mother of 73 and my father in law of 82 on a three-week trip to Australia. Flying Singapore Airlines is a treat in itself, those lovely exotic eastern hostesses and the satay sticks which were available for much of the flight were sublime.
© By Aero Icarus from Zürich, Switzerland [CC-BY-SA-2.0]
After the first 12 hour leg we stopped over in Singapore for breakfast in the executive lounge before heading of to Australia for the vacation to start in earnest.
The initial excitement when the captain announced that we were crossing the north coast somewhere near Darwin in the Northern Territories was tempered somewhat by his byline that it was now only 6 hours to Sydney, our first point of contact with Australian soil.
Once landed, a quick taxi hop to The Observatory Hotel in the city, a beautiful spot which we were sadly all too tired to enjoy fully, at least not the first night.
The next day we wondered around Sydney, down to see Sydney Harbour Bridge, which people were climbing across in ordered guided climbing tours.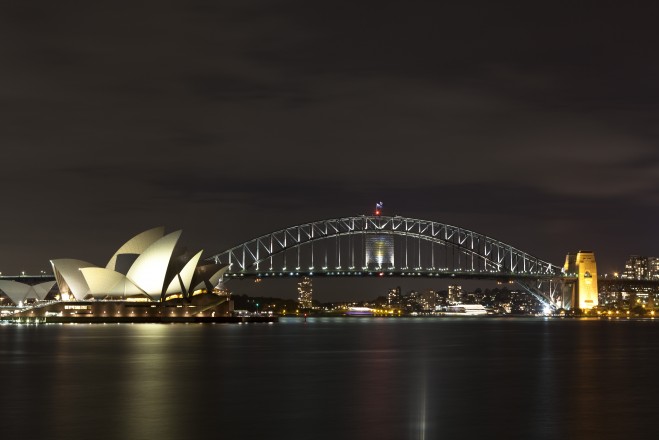 © http://www.fotopedia.com/users/cBCDkVkfOBY
The Sydney Opera House was the first time I lost him. Noel, my father in law, has habit of getting distracted by things that interest him, and with his great intellect almost everything interested him. He had seen a door open and we found him 20 minutes later in deep conversation with the man in charge of lighting.
With me now watching him more closely we went outside and were struck by the beauty of the Jacaranda trees in the vicinity, producing the first real photo opportunity of the vacation.
After much setting up of the shot, some 2 full minutes in pose while Noel set shutter speed, focus and god knows what else, the triumphant click of the camera was followed by an exclamation, he had no film in his camera!
Once we had seen more of Sydney including the famous Bondai Beach which I found a little under whelming, we took a ferry over to Manley for what Australians call a "sticky" which is short for a sticky beak, which means to have a look around.
A train to Melbourne the next day and a couple of days spent in the city dodging the trams, was followed by a visit to Adelaide to see the first Test in the 2003 ashes series.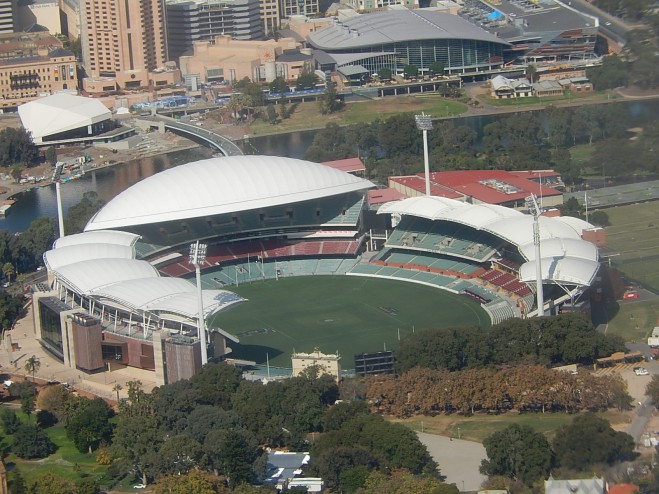 © https://www.flickr.com/photos/mikecogh/14004305057
Adelaide has probably the prettiest cricket ground in the world, and the town is well designed with huge wide boulevards, built big enough to allow a horse and cart to turn around in one go. The Adelaide inhabitants are keen to point out that their town was settled rather that populated by convicts transported from England as is the case with most Australian settlements.

From there we took The Ghan train north into the geographical centre of the continent, Alice Springs. 36 degrees proved too much to even consider walking up Ayers Rock so we had to be content with pictures, but the colour changes from minute to minute at sunset were astonishing.

From Ayers Rock we flew to Perth to see the next Test match, but England were beaten by a superior team in three days, a truly humiliating end to our vacation, but the Australian people are unstintingly friendly and helpful and I love the country, the only trouble being it is too far from the rest of civilisation.

After a few more days in Perth, which I found less interesting than either Sydney, Adelaide or Melbourne, we headed back home with a short stopover in Singapore for some shopping and to ss the exotic gardens. Singapore is so clean it hurts! When I was there, chewing gum was banned but I believe they have lightened up a little recently, it is no longer punishable with a prison sentence!
About the author
Guest Blogger
It all started in about 1973 after I'd left Aylesbury Grammar School and turned down a place at University to become a dustman. My mates such as John Otway, Wild Willy Barrett and musicians that went on to form Marrillion had nowhere to play, so I set up a gig, which multiplied into promoting 7 gigs a week. Amongst the bands booked were The Jam (paid £20) The Clash (their first gig outside London - £50), the Damned, The Only Ones, Eddie & Hot Rods, XTC, Stranglers- and many more.