Five superstars who loved yachts on the high seas
Is it any wonder that the really big stars, the ones who are constantly goaded into a response by the paparazzi and chased into cloakrooms by obsessed fans, just adore the water? Imagine these screen legends taking a normal land-bound holiday with all those prying eyes following their every move.
© Simon Greig (xrrr) / Foter.com / CC BY-NC-SA
A boat, however, enables one to choose one's own company - perfect for a privacy-craving superstar. Here we profile five ultra-famous celebrities - three deceased and two very much alive - who were/are known for their love of the water and luxury vessels.
Humphrey Bogart (1899-1957)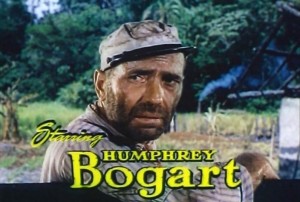 Humphrey Bogart © http://www.sabucat.com/?pg=copyright / Foter.com / Public domain
An extraordinary cult has grown around this lightly built but super-charismatic screen legend since his death. Bogart's screen persona - cynical, streetwise, fond of a drink and essentially a man's man - has caught the imagination of generations of cinema audiences. For whatever reason his popularity has endured, far beyond that of contemporaries like Clark Gable or Gary Cooper.
His performances in classics like Casablanca (1942), The Treasure of the Sierra Madre (1948) and The African Queen (1951) aside, Bogart is remembered for his passion for the sea. Bogart always claimed that the Santana, a 55-foot sailing yacht he bought from Dick Powell and June Allyson, helped to preserve his sanity. "An actor needs something to stabilise his personality, something to nail down what he really is, not what he is currently pretending to be," he once said.
Bogart sailed the Santana between 35 and 45 weekends a year, often with his fourth wife, screen legend Lauren Bacall - who is still with us at the age of 88.
References
John Wayne (1907-1979)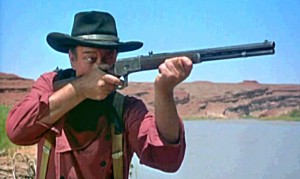 John Wayne © User:Petrusbarbygere / Foter.com / Public domain
We continue our bios with another of Hollywood's quintessential tough-guys. Although the public's abiding public image of "The Duke" was on horseback, the Western legend - who won an Oscar for True Grit (1969) and was known for his partnership with director John Ford in films like The Quiet Man (1952), The Searchers (1956) and The Man Who Shot Liberty Valance (1962)- was actually much happier in the water than on a saddle.
The Wild Goose, a converted World War 2 minesweeper, was Wayne's home from home throughout the last few years of his life. He especially loved trips around Catalina Island, near his home in Newport Beach in California, where he would go fishing for salmon and marlin.
Wayne bought The Wild Goose in 1962 for $112,000 from his friend, Seattle lumber tycoon Max Wyman. He entertained many celebrities on the yacht, including members of The Rat Pack who each had their own stateroom aboard the ship. Several U.S. presidents were guests on The Wild Goose, including Ronald Reagan and Lyndon B. Johnson, and close showbiz friends like John and Bo Derek. It was also where he romanced the last great love of his life, his secretary Pat Stacy.
Wayne gave his final interview with Barbara Walters aboard The Wild Goose a few months before his death. Walters asked Wayne if he believed in the afterlife. The Duke replied if there was one, he'd be going where The Wild Goose goes. And who could blame him?
References
Lee Marvin (1924-1987)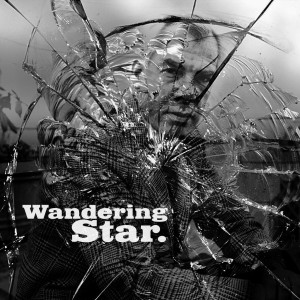 Lee Marvin - Wandering Star © Anton Gurevich / Foter.com / CC BY-SA
Lee Marvin never actually owned a yacht but spent so much of life on board boats that we will include him as an honorary member.
Away from acting, Marvin who was known for his forceful performances in films like Cat Ballou (1965) and Point Blank (1967), said that he only found meaning in his life through fishing. Every year Marvin would head off to Australia and hire a boat to go big-game fishing. It was, as described by John Boorman in his masterful documentary biography of Marvin, a mystical experience for Marvin as he battled to rein in giant marlin. "It's that old Hemingway line - at first you think you have the marlin hooked and then you realise he has YOU hooked," he once told an interviewer.
And in the evenings, as recalled by his widow Pamela in her biography of Marvin, his skin tingling with the sun and sea water of the Great Barrier Reef, the former marine would settle down to a few beers. Pure heaven or what?
Steven Spielberg (born 1946)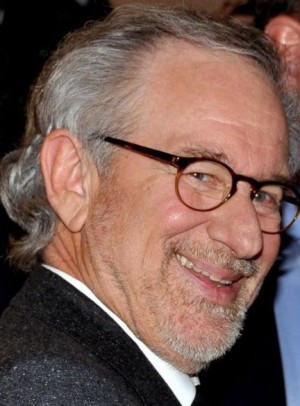 Tintin Paris 2011 © Georges Biard / Foter.com / CC BY-SA
What can we say about the world's most "commercial" film director? Is it any surprise that the man behind the most phenomenally successful "fishing" movie of all time should buy a boat? Hopefully, the Hollywood wunderkind turned mega-movie mogul will never encounter a "fish" like the one depicted in Jaws (1975) in which Robert Shaw, Richard Dreyfuss and Roy Scheider battled against a giant "mechanical" shark.
Spielberg's other blockbusters include Close Encounters (1977), ET (1982) and Schindler's List (1993).
Spielberg's boat - a 282-feet floating palace known as My Seven Seas - was built by Dutch shipyard Oceanco and designed by Nuvolari Lenard Design. It supposedly cost about 150 million euro. It was modeled to Spielberg's specifications - which include an interior design scheme of walnut, teak and rosewood, as well as an infinity pool with a 15 ft. glass wall that can also be converted to a cinema screen.
Johnny Depp (born 1963)
Johnny Depp, the "Pirate of the Carribean", actually owns a luxury motor yacht. Built by Proteksan Turquoise in Turkey in 2001, it is a large modern classic luxury superyacht measuring 156ft long.
Depp named the yacht "Vajoliroja", a combination of the first letters of the names of each member in his family "VA&", for his girlfriend Vanessa Paradis, "JO", for himself,"LIRO", for his 10-year-old daughter Lily Rose and "JA", for his 8-year-old son, Jack.
Would you like to charter out Johnny Depp's boat? Well, the good news is that it IS available. And it's yours for just 90,000 euro a week!
About the author
Blogger
I have lived in various countries, including UK, Portugal and Bulgaria. I have always been entranced by the sea. In fact, my mother once reported that I first "looked up" at the sight of the ocean. Since I was a child I've been happy gazing out at its boundless expanse.