Famous Yachts in Movies
Yachts
have long been employed in movies as symbols of wealth, status and luxury, as well as of adventures, traveling and romance. In the imagination of a director certain things just fit well on a yacht and should therefore be filmed on one. One cannot simply film a luxurious, high-security, 'millionaires-only' party on a steamboat. Not nowadays, at least. Unless it's coated in gold!
So, as soon as some eccentric director's imagination requires such a vessel to be present in the movie, a yacht has to be found. And since yachts are usually not built specifically for movies, one needs to be rented and sometimes even specifically reproduced. With that said, a high number of private yachts have been filmed in movies - which also adds to the value and fame of a yacht. Here are, therefore, some of the most luxurious, magnificent and beautiful yachts ever to be featured in the movies.
Reference
James Bond
It's almost a cliché to start out with Bond. But you have to admit that if there ever was a movie series which had yachts in it, it surely was and remains James Bond. Besides, these yachts are not simply yachts, they are many a man's dream. By far the most prominent type of yachts in '007′ movies (motorboats and superyachts) are those by Sunseeker. 'Casino Royale' saw the appearance of the Sunseeker XS2000, the beautiful Sunseeker Predator 108 (owned by the main villain in the movie) but also the classic Spirit 54 by Spirit Yachts. 'Quantum of Solace' saw two other Sunseekers - the Superhawk 43 and the motorboat Sovereign 17, while the Superhawk 48 was featured in 'Die Another Day' and the Superhawk 34 in 'The World is Not Enough'.
The Benetti Nabilia, nowadays known as the Kingdom 5KR, was featured in 1983 in 'Never Say Never Again'. Constructed in 1980 for a Saudi billionaire, the superyacht was one of the largest and most luxurious yachts in the world back then, costing $100 million.
Two other notable superyachts featured in Bond movies were the Northern Cross in 'Golden Eye', built by Marinteknik Verkstads in 1991, and the Moonmaiden II in 'Living Daylights' built in 1975 by Beykoz Shipyard. All of the above actually don't exhaust the long list of yachts ever to be featured in Bond movies but that would require a separate article altogether.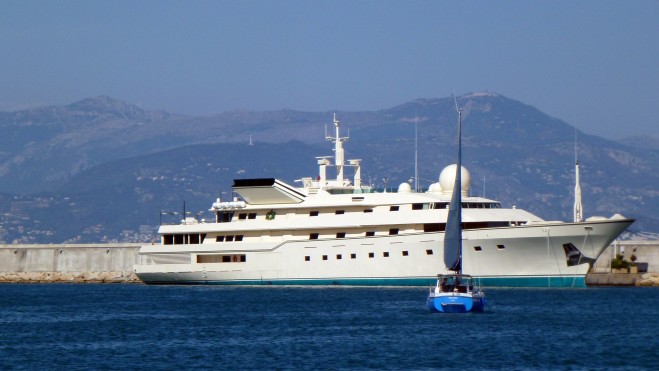 References
Syriana and Two Weeks Notice
Helios 2, formerly known as the Anson Bell, was featured in the movie 'Syriana', a thriller featuring George Clooney, Matt Damon and Jeffrey Wright. Helios 2 was built in 2002 by Palmer Johnson Yachts, with an interior design by Ramsey Engler and exterior styling by Sparkman & Stephens.
Symphony hull #7 of the Benetti Classic 115 series was filmed in 'Two Weeks Notice' with Hugh Grant and Sandra Bullock. The Benetti Classic 115 has been a highly popular choice for yacht owners with its classic lines, wood and marble floors, and altogether luxurious interior, with a total number of 27 yachts built. Symphony, in particular, was built in 2000 but had her last refit in 2010.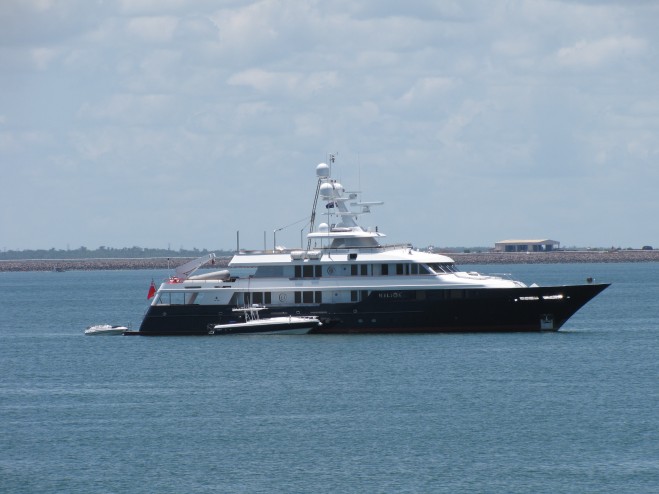 Reference
Rush Hour 2 and Bourne Identity
Taipan III, featured in 'Rush Hour 2′, is a somewhat old (1981) but nevertheless respectable piece of Italian design and construction. The yacht has four decks with custom furnishings and antiques, jet skis, kayaks and windsurfs, a jacuzzi and many other comforts. So, though an oldie, the Taipan III has it all covered when it comes to offering a comfortable and luxurious environment.
Another notable 'old dog' is the White Knight, from the 'Bourne Identity'. Built in 1985 by Astillero Jorge R Chediek and fully refit in 2000, the White Knight is a classic displacement yacht that can accommodate up to 12 guests, has exceptionally spacious deck areas that permit for all sorts of social activities and, for example, al fresco dining, alongside a variety of water sports equipment, just like the Taipan III.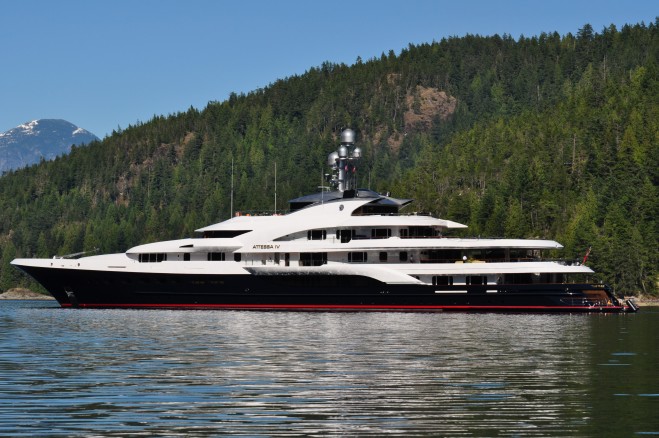 The above list only scratches the surface of the total amount of yachts ever to be featured in movies. There are many other examples that deserve attention – such as the 118 WallyPower in 'The Island', the astounding Attessa in 'Overboard' as well as in 'Indecent Proposal', the Azimut 80 Carat and the Fair Lady in 'Swept Away' and so forth. What is common to all of these instances, though, is what the yachts in these movies stand for – they all serve to represent a lifestyle associated with wealth, luxury and high class.
About the author
Blogger
Over the years I've lived in various places - from Germany to Finland, to Bulgaria and Denmark, and have also traveled extensively. This has developed in me a keen love for moving, visiting and exploring new places. I enjoy hiking, sailing and traveling by sea, swimming, martial arts and all sorts of physical activities. I am deeply concerned about environmental issues and sustainable living, specifically those related to the preservation of the oceans and their inhabitants.