Chic on a yacht: the hottest and the most timeless trends in nautical fashion
Enjoying time at sea is an amazing experience that brings excitement and a special connection to nature's most abundant resource, namely water.
© John and Jackie Kennedy watching the Americas Cup, 1962 / Wikipedia
Sailing has turned into an exquisite activity both for a real active vacation and for supreme relaxation and change of setting. Spending your vacation on
luxury yachts
means that proper apparel for the occasion is needed as well, as chic on a yacht is not a mirage – it is a must. Nautical fashion, besides mixing up and heavily contributing to traditional catwalk shows, is a curious fashion niche of its own – and it is white, blue and truly fresh, with a hint of sea salt.
What are the evergreen fashion trends in marine clothing lines?
The recipe is simple: the traditional nautical look plus a modern touch in terms of colors, shapes and models. It's all about the blue uniform, the Breton stripes, as well as the nitty- gritty little details like the golden and engraved jacket buttons and the stylish epaulettes. The colors have increased in number and these days they include, on top of the traditional white and blue (and occasional red), mustard yellow, orange, black and gray. These new color additions might make it difficult to recognize the usual nautical elements - but a closer look will reveal their excellent incorporation in traditional models. The Breton stripes have also received a serious boost in 2013 and have unleashed the creative flair of designers, as now they appear in a variety of sizes, colors and directions, as in the
Michael Kors
S/S 13 Collection. Stripes continue to appear in more subtle forms in 2014 Spring/Summer collections, for example the gentle feminine lace stripes in Elie Saab S/S 2014 collection (the video below), as well as the bold and colorful horizontal stripes in
Valentino
S/S 2014 collection.
The timeless nautical style
For both women and men, T-shirts and tank tops can be completely honest about their marine tendencies – and thus can include prints of anchors and stripes in usual as well as in non-orthodox colors. Dresses can go in two directions, both possessing the traditional nautical chic – either
stripe dresses
in white and blue, illustrated by the Henry Lloyd dresses below, or the blue navy shirt-like ones. Skirts can enjoy a wider diversity in terms of models, yet the color scheme remains in the blue playground.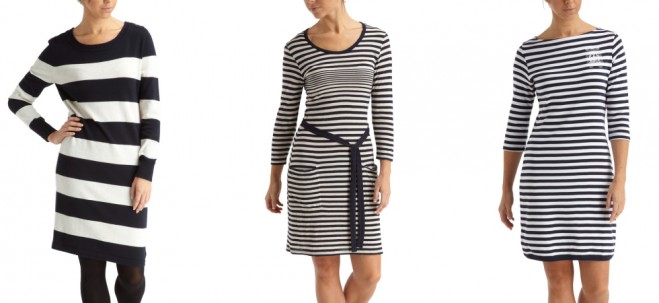 Henri Lloyd Stripe Dresses
As for marine fashion for men, there is a strong influence from scuba diving in terms of the clothing and the shoes. The cable-knit sweaters (especially in white) are another great pick for an autumn sail. Extravagantly striped shirts fill men wardrobes, as do
autumn polo shirts
such as the ones from the Henry Lloyd collection.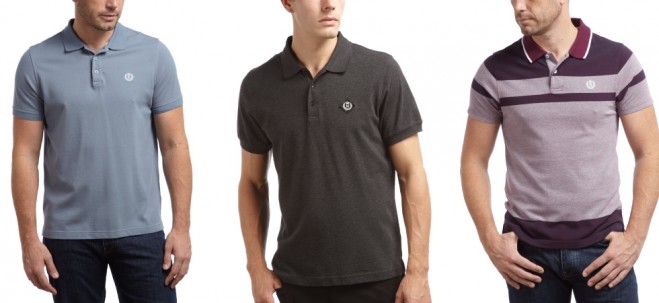 Autumn Polos
The accessories
As far as
accessories
are concerned, the nautical knot rope jewelry is earning much deserved attention with inspiring necklaces and rings. These can be golden or made from non-metal materials with precious stones or gold finishes. What about the bag? It's going to be a duffel bag, a long-standing companion of marine adventurers, usually presented in traditional white and blue stripes or even in denim. Marine shoes include the traditional deck shoes in beige or blue, as well as the scuba-inspired sports shoes.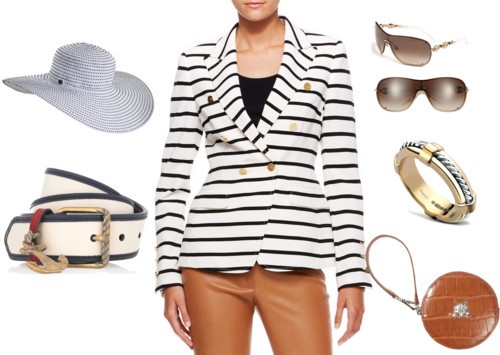 nautical styling by bluewater-yachting featuring an embellished belt
Marine chic is not only possible, it is a must. Especially when it is quite easily achievable with the wide variety of colors and models that the new nautical fashion trends present these days. Just get the right gear and the stylish Breton stripes will give you an amazing look – on the deck or in the yacht cabin, so that you can fully enjoy your luxurious yacht experience.
About the author
Ralitsa is a writer with diverse background ranging from media and communications to social research. She is passionate about outdoor activities such as sailing and has a special interest in fashion.