Bluewater Chef Competition Winner!
Tyrone Hardie, 26, was the winner of the 2016 Bluewater Chef Competition. Held at 'Secrets de Cuisine' in
Antibes
, the competition was sponsored by Gourmet Deliveries. The 12 contestants (the competition was well over-subscribed) fought a very close battle this year and showed a real mix of styles.
Tyrone learned his trade on the job, like quite a few yachts chefs, and was not formally trained as a cook. Yet he produced a consistently high standard of food and drove himself harder and harder as the heats progressed. His final meal was a triumph of instinctive flair for the use of ingredients.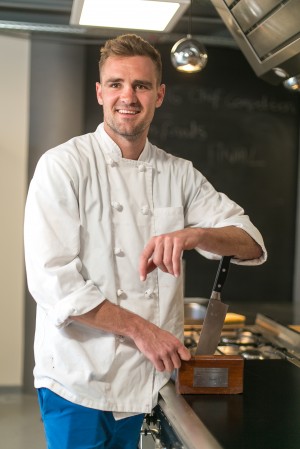 Chef Tyrone Hardie
All of the candidates were given 30 minutes to use all the contents of a bag of ingredients which they had not seen before. For the heats they produced one dish, for the semi final two dishes and for the final, a three course lunch in 45 minutes. 10 minutes into the final the two contestants were surprised when the referee, Helen Grensinger from '
Gourmet Deliveries
', announced that a cake was being provided which they also had to decorate before the final whistle. Tyrone's cake was still untouched less than 4 minutes before the end as he was still preparing his main course, yet somehow he managed to pull a creative design together in the final couple of minutes.
Tyrone started looking for work as a deckhand/engineer when he was 20, but thought, since his Mum had taught him to cook, he might get work as a yacht chef. He got his first chance on a 30 metre motor yacht in Barcelona and has not looked back. Staying in the 30-35 metre range in charter yachts in the Med and the Caribbean, he has just passed his MCA
Ship's Cook assessment
at
Secret de Cuisine
and is now seeking to work on larger yachts.
About the author
Training Director
John Wyborn is a co-founder and director of Bluewater, a yacht brokerage, charter and management company and a provider of crew training and placement services to a large proportion of the yacht crew population. He is Vice President of MYBA (the worldwide yachting association), is on the board of the Professional Yachting Association (PYA) and is a board member of the International Association of Maritime Institutions (IAMI). He is Deputy Chairman of IAMI's influential Small Ship subgroup. He joined the Royal Navy as a seaman officer after university and served on various types of vessels including frigates, destroyers, and finally in command of HMS Mentor; a navigation and seamanship training vessel teaching RN trainees and foreign navies.