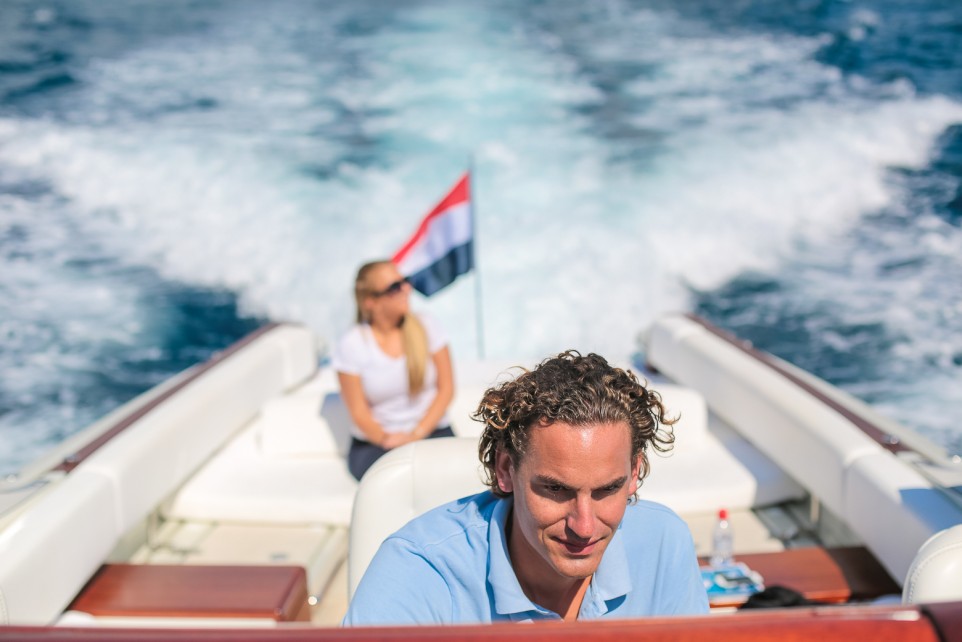 4. They are 24/7 chauffeurs.
When you're ready for a glamorous dinner ashore, you just make your way to the aft deck, where the smartly-dressed deckhands are ready with the tender to drive you ashore. At 3am coming out of an A-list club, the crew are there to take you back to the yacht, the tender tracing a path through the moonlit sea. During the day, the deck crew are always on hand to drive you to the nearest coral reef, to the port for some boutique shopping, or pick you up from a blissful morning at the beach. If you feel like snorkelling or swimming from the back of the yacht, the deckhand will even follow you in the tender just to make sure you don't get tired! Now that's service.
5. They're always there to welcome you back.
As a charter guest, one of the loveliest things of all is returning to the yacht after a day of adventures. As the tender approaches the yacht you'll see a member of crew waiting on the swim platform with a jasmine-scented facecloth and a big smile to welcome you home.
6. They adapt to you.
Some guests appreciate a friendly and fun style of service from the crew, while others prefer a more formal and inconspicuous service style where privacy and discretion are paramount. Some like fine dining, while others appreciate family-style buffets. Yacht crew are trained to notice your preferences from the first meeting and adapt their service style to you.
7. They're your dedicated personal assistants and travel planners.
The captain and chief stew are a wealth of knowledge, with plenty of suggestions about local activities and restaurants. Want to go quad-biking, horse riding, or take a helicopter trip? The captain will come to you each morning with a range of options, and they'll also lean on their connections to get you VIP reservations at the hottest tables in town.