A Diamond Geezer
Laurence Graff is the British billionaire jeweller and diamond dealer who, in 2010 paid the record breaking amount of twenty nine million pounds for a rare pink diamond at Sotheby's Geneva auction house.
The diamond was once owned by the American celebrity jeweller Harry Winston and is just under twenty five carats in size. Upon purchasing the rock Mr Graff , rather modestly re-named it The Graff Pink !

Two years prior to this Graff broke all records then by paying sixteen million pounds for the thirty five carat "Wittelsbach" diamond. He then employed three diamond cutters to repolish the stone to improve it's clarity and to remove any minute chips in the surface. This action reduced the size of the diamond by four and a half carats. It's clarity was upgraded however from a VS2 rating to IF or "Internally Flawless". It's colour was also upgraded from "Fancy Deep Grayish Blue" to "Fancy Deep Blue" So there you go !

Graff was born in Stepney in London to a Jewish family. His mother was Romanian and his father, Russian. His father was a tailor and his mother a tobacconist and after leaving school at fifteen , he got a job in a small jewellers shop repairing rings and making small pieces of jewellery.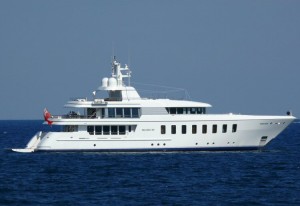 M/Y Space - 45m Feadship
In 1960 he founded Graff Diamonds and began to specialise in supplying to the newly rich buyers from the Middle East including his long standing customer and friend, The Sultan of Brunei.
Today Graff is estimated to be worth around four a half billion dollars from his diamond dealings and enjoys his private jet, his 45 metre Feadship - motor yacht Space, two sprawling vineyards in South Africa and an art collection worth fifty million pounds.
He truly is "The King of Bling" !
About the author
Blogger
I moved to Cannes in the South of France two and half years ago having spent the previous fifty in Chester in England.