5 fancy foods you'd like to enjoy on your luxury yacht but can't
In the world of luxury foods there exists a category of foods which is far beyond what is usually considered haute cuisine. Caviar, foie gras and truffles are all very
nice
but they cannot possibly compare to what some mastermind celebrity chefs have produced. But with their complexity also comes the difficulty of tasting one of these rare and luxurious meals - they are not widely available, nor can they be prepared by just anyone.
© Karat Chef Official Facebook Page
If you want to cater them for a party or reception on your
luxury yacht
, you'll probably have to fly in the chef, along with his team. Not to mention the expensive ingredients which are required. Here are 5 foods which you have to see and try for yourself instead of them coming to you on your yacht.
The Most Expensive Sushi Roll in the World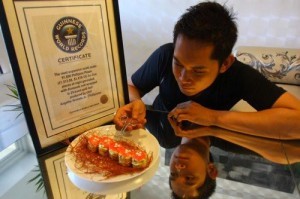 Sushi with pearls and diamonds © Karat Chef Official Facebook Page
With a Guinness World Records certificate, Angelito Araneta Jr.'s sushi rolls are the most expensive in the world. The 70-year-old virgin water, 12-year-old Italian balsamic vinegar, Norwegian pink salmon, foie gras, sea cucumber, Japanese rice, saffron and a few other ingredients already make this dish tip the balance towards the expensive end.
But it doesn't stop here. The sushi rolls are finally rolled in 24-karat gold leaves and garnished with Palawan pearls from the Philippines and 20-carat diamonds from Africa. Five pieces of such sushi cost about $2,000.
Gold Leaf Covered Gelato
Let's start with Serendipity 3′s Burger Extravagant before we get to the dessert. With its Japanese waygu beef infused with truffle butter, black truffles, quail egg and Kaluga golden caviar, this burger is not your regular fast food. And there's more where that came from. NY's Serendipity 3 restaurant also offers the Guinness World Records' most expensive dessert, "The Golden Opulence Sundae".

For the price of $1,000 and with 48 hours' prior notice, you will receive a gelato made out of Tahitian vanilla bean ice cream and Madagascar vanilla. Then it is topped with 23-karat gold leaf and drizzled with Amedei Porcelana, sometimes called the world's most expensive chocolate. Additional ingredients include dried fruits, truffles, marzipan and most notably – Grand Passion Caviar, famous for its golden sparkle. All of that in a gold-lined crystal goblet, to be enjoyed with a golden spoon inlaid with diamonds.
Zillion Dollar Lobster Frittata
NY apparently has a thing for luxury food experiences. The Zillion Dollar Lobster Frittata at Le Parker Meridien is another dish worthy of being on this list. With its $1,000 price tag it is considered the world's most expensive omelette.

No gold in it, but it is made out of six eggs, 10 ounces of sevruga caviar (one of the most expensive varieties of caviar), a lobster, cream and potatoes. For those who don't wish to invest a small fortune, there is a smaller $100 serving.
The Sound of the Sea
Here we slightly diverge from the luxurious into the extravagant and eccentric. "The Sound of the Sea", a dish invented by star chef Heston Blumenthal of The Fat Duck, features about
55 separate ingredients
. This dish actually looks like a miniature sea scene, featuring 'sand', 'seaweeds', 'froth', 'sea shells' and the 'sea' itself, all made out of these 55 ingredients.
Its purpose? To recreate a realistic experience of the sea with all its smells, textures, images and… sounds. Yes, alongside this highly complex dish, customers are given a large seashell with an iPod inside which plays sounds of the sea. Truly a dish that takes gastronomy to another level.
White Truffles and Gold
Back to luxurious, we arrive at Margo's Pizzeria in Malta. For a minimum of €1,800, depending on the price of Alba madonna white truffles at the time, you can eat a pizza which you need to order a week in advance.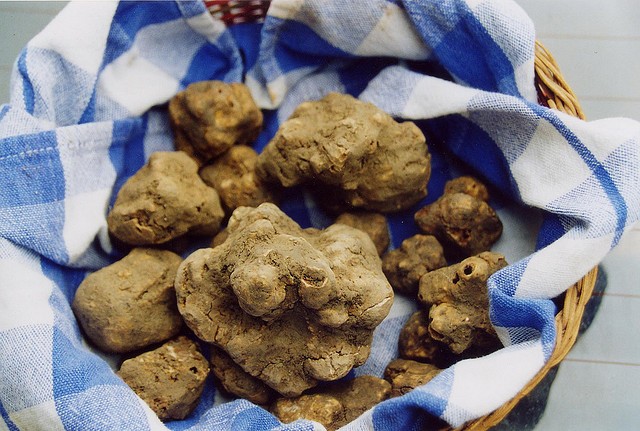 Truffles © Tuscanycious / Flickr / CC BY 2.0
Furthermore, things are additionally complicated by the fact that the pizza is only available from October through May, when white truffles are in season. These are specially flown in from Piemonte. Add to that Campanian water buffalo mozzarella and 24-karat gold leaf placed on top and you have yourself Margo's Golden Pizza.

There's luxury and gourmet food and there are dishes like the above which resemble works of art. But then again, who wants an ordinary pizza when you can have one that's covered with gold?
Related links
About the author
Blogger
Over the years I've lived in various places - from Germany to Finland, to Bulgaria and Denmark, and have also traveled extensively. This has developed in me a keen love for moving, visiting and exploring new places. I enjoy hiking, sailing and traveling by sea, swimming, martial arts and all sorts of physical activities. I am deeply concerned about environmental issues and sustainable living, specifically those related to the preservation of the oceans and their inhabitants.