5 drinks that won't make you seasick on a yacht
There's a popular perception about sailors and their drinking habits. I mean what is the first thing you'd think of when someone says sailor and sea - Popeye and spinach or Jack Sparrow and rum? Chances are - the latter. Though, you may argue, Sparrow is technically a pirate and as such he is in no position to be a representative of sailors who are far more respectable. Be that as it may, sailors too have had a bad reputation of being prone to alcohol misuse or, as said, that's a popular perception. Certainly, there must have been some truth to it, especially back in the day, though drinking also has some very practical dimensions whilst on high seas.
Especially in olden times, apart from being a pastime during the long months on sea, and a way to deal with loneliness and homesickness, alcohol also had a very practical purpose of preserving the water and act as a means to resists certain diseases. Furthermore, ingredients such as honey, molasses and fruits (though they soon went bad) were also used for certain drinks because of their nutrients. Or at least so the story goes. Grog, for example, is one of those famous beverages which were enjoyed by sailors and have made a name for themselves… as well as for sailors. With that said, here are 5 drinks that have proven their worth over time and which will help you deal with seasickness if you get overcome by it on your yacht.
Navy Grog
Originally, grog was invented sometime around the 1700s. It is said that British Vice Admiral Edward Vernon introduced grog into the Royal Navy in 1740. Back then it consisted of a type of weak beer and rum. Later on, grog came to be made with hot water, lemon or lime juice, sugar and spices such as cinnamon and nutmeg. Navy Grog in particular is a variation of grog and there are a number of recipes for its preparation. There's a Don the Beachcomber recipe, a Trader Vic's one and one by Dale DeGroff and many more, depending on personal taste and preferences. By far the most popular seems to be the first one and, having tried it personally, I can only say it certainly has strong healing qualities, har har har! Here's the original 1941 recipe: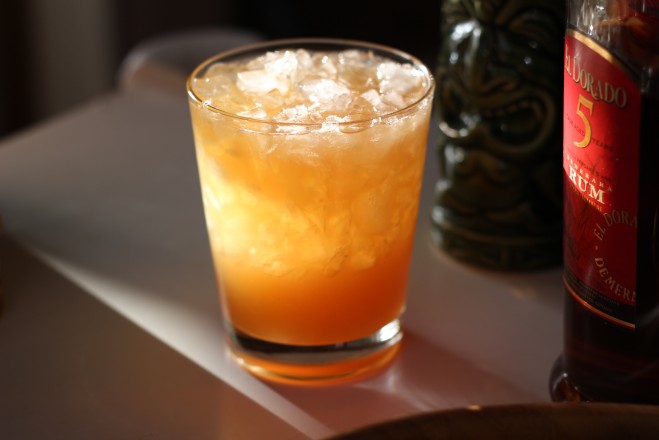 Ingredients:
1 oz White Rum (for example, Light Puerto Rican Rum or Cruzan Estate Light)
1 oz Dark Rum (such as Gosling's Black Seal or Myers's)
1 oz Demerara Rum
3/4 oz Lime Juice
3/4 oz Grapefruit Juice
3/4 oz Honey (slightly pre-heat honey or mix with a bit of hot water to liquefy)
1 oz Club Soda

Preparation:
Mix the rums, juices and honey in a cocktail shaker with ice. Strain into a Collins glass with some more ice. Add soda and an orange slice or a cherry as garnish.
Dark 'n Stormy
Ginger is another ingredient which has been shown to have beneficial effects on seasickness. It has been shown to alleviate nausea that is caused by motion sickness. Though ginger beer does not have quite the same effects, it is still a great ingredient for a cocktail to enjoy while on your yacht. Dark 'n Stormy is made with ginger beer and is very simple to prepare.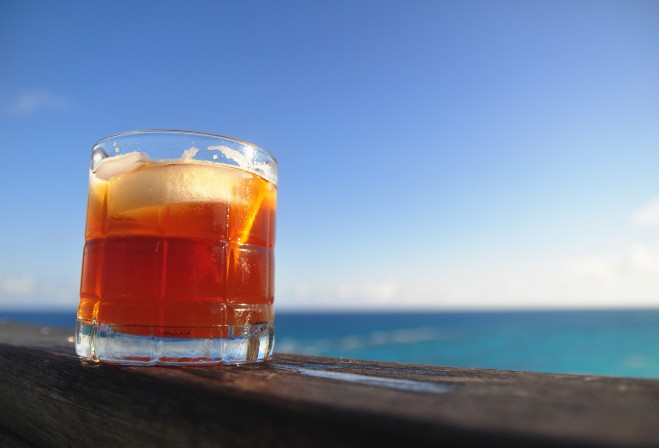 Ingredients:
1.5 oz Gosling's Black Seal Rum
Stormy Ginger Beer or other ginger beer

Preparation:
Pour the rum into a tall glass. Add ginger beer and garnish with a lime wedge.
Bourbon Ginger Snap
Instead of rum, here's a great cocktail with bourbon and instead of ginger beer it contains fresh ginger, as well fresh orange and lime juice. In other words, a Bourbon Ginger Snap. These were, by the way, extremely important back in the day because lack of vitamin C was the reason sailors often fell ill with scurvy. The recipe below is meant to serve your whole yacht crew (about 20 people).

Ingredients:
1 cup fresh lemon juice
1 cup honey
1 3-inch piece of fresh ginger, peeled and sliced
6 cups fresh orange juice
4 cups pear nectar
1 liter bourbon
2 lemons, thinly sliced

Preparation:
The fresh lemon juice, the honey and ginger, alongside 2 quarts of water are combined and brought to a boil. Then simmer for 5 minutes, strain and let cool. Add the orange juice, pear nectar, bourbon and garnish with lemon slices. Serve over ice.
Perfect Storm
An alternative to the Dark 'n Stormy cocktail is the Perfect Storm which is more complex both in its taste and ingredients. Just like in the movie, it can shake you up pretty well, if you're not careful enough!

Ingredients:
1.5 oz Grand Marnier
.5 oz Fresh lime juice
3 drops Angostura Bitters
3 oz Ginger beer

Preparation:
All ingredients, except for the ginger beer are mixed in a shaker along with some ice. They are then strained in a highball glass along with some more ice and topped with the ginger beer. Lime wedge is added as garnish and voilà – you've got yourself a Perfect Storm.
Sea Breeze
Finally, here's a classic cocktail with grapefruit and cranberry juice, and some vodka. Enjoy the short video below, which demonstrates how this simple, yet delicious cocktail is prepared.
About the author
Blogger
Over the years I've lived in various places - from Germany to Finland, to Bulgaria and Denmark, and have also traveled extensively. This has developed in me a keen love for moving, visiting and exploring new places. I enjoy hiking, sailing and traveling by sea, swimming, martial arts and all sorts of physical activities. I am deeply concerned about environmental issues and sustainable living, specifically those related to the preservation of the oceans and their inhabitants.