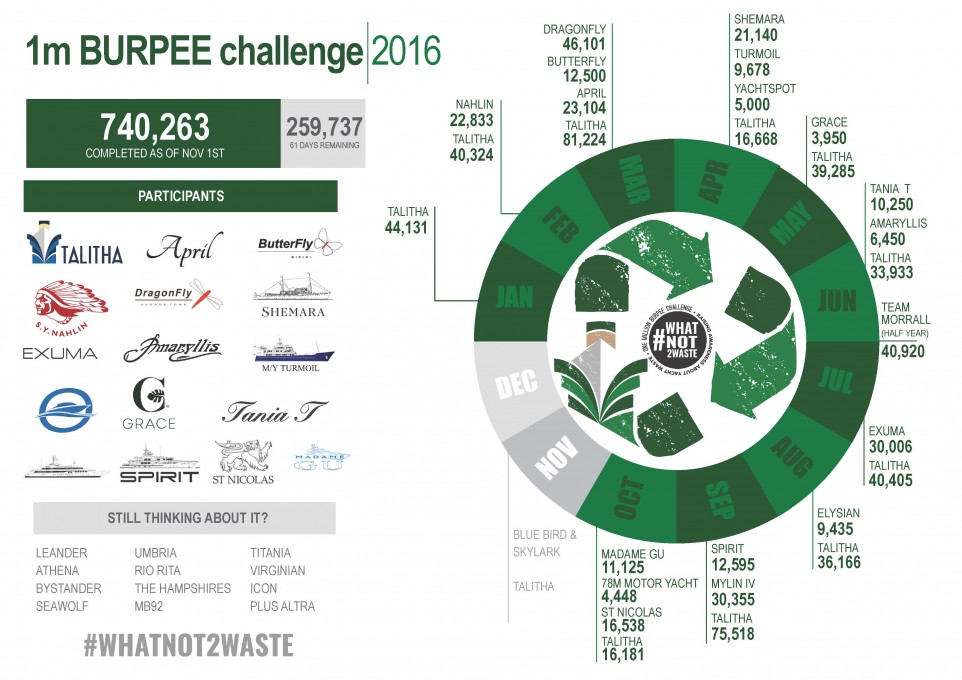 The aim of WN2W is to get more yacht crew discussing, learning and trying to put in place new ways to reduce waste. Captain Guy Morrel and his crew want to encourage boats to be mindful about how they work, and develop more efficient practices. Talitha have begun to tackle the issue themselves by making small changes onboard. The yacht is strict about separating recyclable rubbish and has reduced the meat consumption onboard by endorsing meat free Mondays. The deck and engineering departments have embraced biodegradable cleaning products and organic lubricants. While the whole crew have switched from using plastic bottles to CamelBak reusable products. They have even managed to decrease fuel consumption by reducing Transatlantic crossing speeds.
Having joined the 100 Burpee Club, by completing 100 uninterrupted burpees in one session,
Talitha's crew
earned a yacht best of 81,224 burpies in March. But to reach the mammoth 1m goal they have needed help. Throughout the year they have recruited like-minded yachts who support the cause. Some of the boats to join WN2W are: M/Y Dragonfly, M/Y Butterfly, M/Y April, M/Y Shemara, M/Y Turmoil, M/Y Infinity, M/Y Athena, M/Y Amaryllis, M/Y Alucia, M/Y Madame Gu, M/Y Moka, M/Y Rio Rita, M/Y Exuma, & M/Y Tania T.