Michelle Guy
Crew Mktg /Internal Comms Director
Languages


Bitten by the travel bug at a young age, I had lived in 4 different countries before settling in France. After graduating from University with a BBA hons in Marketing, I worked as a tourism marketer, environmental analyst, bartender (my favorite job!), night club manager, operations manager and system administrator in various places around the world.
Originally, bluewater hired me to automate their single office from paper files to digital databases. Now 17 years & 9 worldwide offices later, I'm still here helping our team channel ideas into reality. Our passion and dedication to the yachting community makes me proud to be part of the bluewater family.

Favorite Place: Off the beaten track in San Francisco through the tunnel next to the Sutro Baths, sitting on the cliff listening to the waves crash on the rocks. This is one of the most beautiful and peaceful places in the world.
In the blog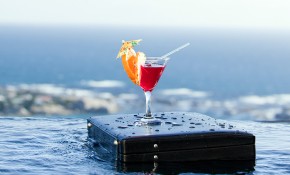 Many famous exotic cocktails are referred to as "Boat drinks", a name made popular by the Jimmy Buffet song "Boat Drinks" in 1979. These types of drinks, also commonly referred to as 'Tiki Drinks' usually have a higher fraction of alcohol, with one or more fruit juices.