Fête de la musique 2013
The 'Fête De La Musique', also known as 'World Music Day' is for everyone from music lovers, bands, choir singers, musicians, tourists, yacht captains and crew from the surrounding quays and just general public who want to shake it and have a great time!
From genres such as jazz, traditional, salsa, hip hop, rock, electronic to reggae, there is live music everywhere that is suitable for everyone!

Originating first in France in 1981 by a French music and dance director named Maurice Fleuret to celebrate creativity, music and the start of the summer, the first festival was held in Paris the year after. Ever since then the festival has become an international celebration all over the world in over 400 cities.

This year's local music festival will be taking place all over France on Friday the 21st of June 2013 with a broad selection of free music concerts splashed around your favourite local night spots, restaurants and bars.
Fête de la musique in Antibes
Antibes is all about having some fun, listening to great music, drinking with friends, family and lovers in town and allows any kind of musician to let loose and play in the crowded streets of the old town. The atmosphere is magical. There are children running around, couples dancing, friends drinking and it gives people the opportunity to share a great memory while listening to great music. It is for people of all ages and brings us all together as we are all there to appreciate the atmosphere.
Our local music group from England 'The Blah Blah's' will be playing this year at Latino's Bar Restaurant. We have a live jazz band at Place National (at the fountains) from 7pm which turns into live music all night. Our other favourite evening watering holes are also putting on events' The Blue Lady Pub have 'Number 9', a French band who play a mix of rock, 50's, blues and covers of the Beatles. The Quays Irish Pub have 'Cadilac' a French Indie Rock band from Lyon who play covers and have a lot of their own material that you can rock out to. Then last but not least The Hop Store who have 'Acid Rain', another French Rock band who have been doing covers and have a regular set at The Hop.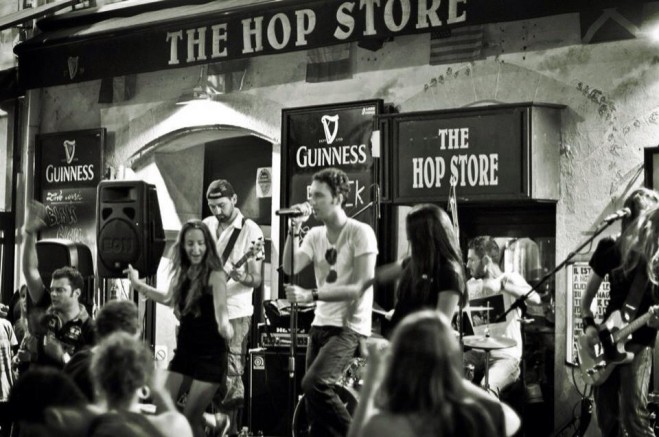 The Hop Store in Antibes
Many other pubs and restaurants around town will have bands of all different kinds so it is worth a walk round and if you work in the yachting industry and have the luck not to be on charter, this is definitely the event of the summer that should not be missed before you leave town again!

It is a perfect excuse for the yachting industry to get down town, meet some new people, make some new friends, all while music plays in the streets and beer flows freely!

Many bars and restaurants have stages placed outside their establishments with live bands and great music blasting! Crowds gather and fill the streets with people of all ages, queuing at the outside bars and dancing all around the place going wild!

Starting late afternoon and running all night long until 2am, this is the highlight of Summer where the streets are filled with the most amazing people who you will ever meet, bands from all over, fireworks and parties where you can run around the streets and enjoy your time in the South of France, because let's face it, you need to treat yourself once in a while for all that hard work dock-walking!
Related links
Contact information
Administrative Assistant
+33 493 34 47 73