Lucy Tasker
Brokerage Manager

My journey in life so far has been nothing but inspirational and insightful, since a very young age I have always been quirky, absorbed by the unknown, learning, adjusting and throwing myself into the line of fire. My various experiences gained from hospitality, finance, IT and event management have all shaped my skill set, leading me here to bluewater.
I love my job, I love meeting people from all walks of life and I love the lifestyle yachting offers. However, my true love has to be The Outdoors; if I'm not in the garden, cycling, hiking somewhere in the hills or camping then I'm out walking my Beagle, taking in the fresh air and appreciating nature's beauty.

If I had to pick a favourite place, it would have to be Vancouver Island. 'Beautiful British Columbia', not only is it breath-taking but it holds one of the world's most diverse ecosystems. The temperate rain forests, vast beach walking, mountains, stunning lakes and multitude of wildlife, definitely do it for me. I would go back anytime!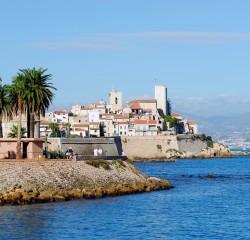 Antibes office
14 Avenue Mirabeau
06600 Antibes, France
T. +33 493 34 34 13
F. +33 493 34 35 93