Charlotte Pesce
Charter Assistant
Languages


I graduated with a degree in Psychology from Birmingham University in 2006 and a need for a change of scenery led me to the vast expanses of Australia. After many adventures, including swimming with whale sharks, I decided to return closer to home and made the 'very difficult' decision to live in the South of France instead of Birmingham.
After a year working at the Carlton in Cannes to learn French, and with previous experience in recruiting, I gravitated towards the vibrant, sociable charm of the yachting industry. I have worked within crew recruitment in Antibes since 2010, before joining the lovely bluewater team in February 2013.

My favourite place - Sat on my balcony watching the sun set over the mountains with a chilled glass of Provencal rosé.
In the blog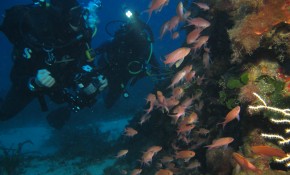 There is no need to travel to the outer reaches of the unbeaten track to find breath-taking dive sites. A short flight from anywhere in Europe and you will find yourself in the luminous waters of the Mediterranean where you will find an eclectic mix of caves, wrecks and vibrant marine life ideal for both advanced and inexperienced divers. The world's largest enclosed sea, too warm for much of the marine life in northern waters and too cold for reef-forming corals, offers its own personalised array of flora and fauna waiting to be explored.